News
The United States at the OECD: its chief diplomat Antony Blinken advocates more equality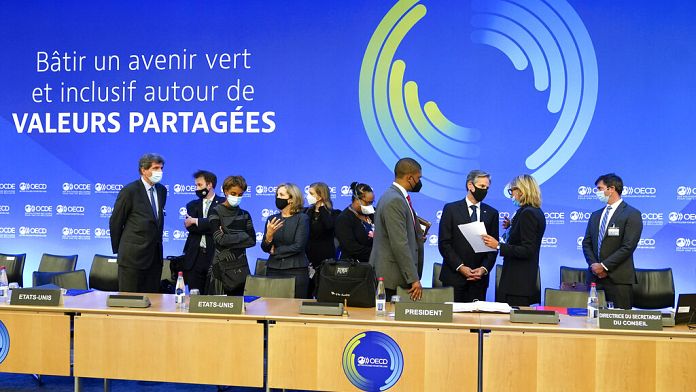 Antony Blinken was finally able to have a "long tête-à-tête" with President Emmanuel Macron to renew diplomatically and put together the official reconciliation between France and the United States after the submarine crisis.
But the US Secretary of State is also in Paris to chair OECD meetings whose initial objective is to rally the world"s most developed countries to the fight against social, economic and climate inequalities, at a time when the climate and health crises make it more necessary than ever to find common solutions.
Alongside OECD Secretary General Mathias Cormann of Australia, on the occasion of the organization's 60th anniversary, Antony Blinken felt that action should be taken :
"We all have a share of responsibility in this situation. For decades, our member countries have measured economic success primarily in terms of rising GDP (gross domestic product) and stock markets, which do not reflect the reality of billions of working families. On the contrary, our unprecedented growth has often been accompanied by increased inequality."
Multinational tax agreement on track
At the moment, nearly 140 countries are participating in the latest OECD discussions on measures to prevent companies from shifting profits to tax havens, and they appear to be moving closer to a global agreement on the taxation of multinationals.
An agreement on a 15% corporate tax rate is expected to be announced as part of a landmark declaration to the OECD this Friday in Paris.
The aim of the discussions this week is to get all states to agree to a common text and to join those that have not yet signed, such as Ireland, Hungary and Estonia, for implementation by 2023.
The French Minister of Economy Bruno Le Maire considered this international agreement possible.
"A compromise can be reached on 15% as a real effective rate," said Bruno Le Maire during a conference call. This "will avoid attractive tax rates of around 2%, 5% or 6%, which are real effective rates practiced by certain States, including in the European Union", he stressed.
This real effective tax rate of 15% would be imposed on multinationals with at least EUR 750 million in turnover. Among them are many large technology groups.
Source link