News
The Ukrainian group Antytila ​​traded their musical instruments for firearms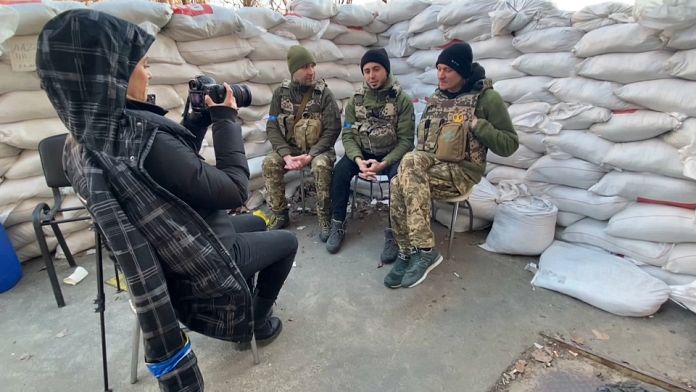 In Ukraine faced with the Russian invasion, civilians who have never held arms in their lives are mobilizing and some do not hesitate to join the ranks of the army. Among them are also musicians.
They traded their musical instruments for firearms. I**he members of the Ukrainian alternative rock group Antytila** came down from the stage to go to the front and defend their country.
"Our mobilization in the Russia-Ukraine war began in 2014. In that year, Russia annexed Crimea and started its criminal activities in Donbass. At that point, we finished our tour and started volunteering."explains Taras Topolia, the singer of the group.
But since the beginning of the Russian invasion on February 24, all their actions have been focused on war.
"We joined the defense of Kyiv and the Ukrainian army before the war. We are parents. I have 3 children, Taras has 3 too. Dima has a son. And the first days of the war we brought out our families in the capital to bring them to safety", says Serhii Vusyk, one of the members of the group.
While Taras, Serhii and Dima are on the front line. Dmytro and Mykhailo take care of logistics and supplies. The band's drummer, Dmytro Vodovozov, explains his role in the war:
"We collect everything they need from the front. We have a bank account in which we put money and we buy everything that is necessary for our soldiers, for our army, our defense and our national guard. Talkies- walkies, thermal cameras, vests, helmets… a lot of things"
Ironically, one of the band's biggest hits, the song LEGO, featured in a music video, a certain comedian by the name of Volodymyr Zelensky. A man they got to know and a president they admire today.
Taras Tapolia does not hide it, he is proud of his president and admires his courage: "I don't know what would have happened to us if someone else was in his place today. I am thinking especially of the old elite who are used to a specific way of governing Ukraine. We are proud of our president. He is the representation of our national spirit and our freedom. He manifests our resistance and he is the leader of this resistance. And not for a single second, during the last weeks, has he doubted the victory of Ukraine".