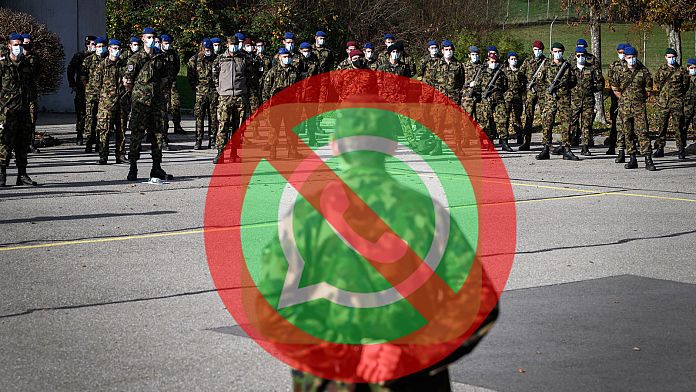 No more Whatsapp for Swiss soldiers. The Swiss army has indeed banned Facebook messaging, sorry Meta, but also Signal or Telegram during service operations, preferring a Swiss messaging system, said an army spokesman on Thursday, confirming information from the Tages-Anzeiger.
At the end of December, the Swiss army sent an email to all commanders and chiefs of staff, asking the military to opt for Swiss Threema messaging, and to no longer use other messengers for communications on phones. private during service operations, revealed the German-speaking Swiss daily.
The recommendation applies "to everybody", including to the conscripts who come for the first time to do their military service but also to those who return for the period known as the rehearsal courses in this country where conscripts must regularly return to the army during the following years for s 'train, said Daniel Reist, the spokesperson for the army.
The question of the use of couriers has arisen in particular during operations linked to Covid-19 to support hospitals and the vaccination program in which conscripts may be called upon to participate, he said.
Already used in public administrations in Switzerland, Threema messaging has been deemed safer in terms of data protection while other messaging systems such as Whatsapp are subject to the Cloud Act, the American law passed in 2018 which allows between others to American judges to order access to data held by American operators, even if this data is on servers outside the United States.
Installation costs borne by the army of the Swiss Confederation
Unlike messaging services such as Whatsapp, Threema is not free, but the Swiss army will cover the cost of downloading the application, which amounts to four Swiss francs (3.85 euros) per user.
Based in Pfäffikon, in the canton of Schwyz, south of Zurich, Threema instant messaging is designed to generate as little user data as possible, she indicates on her site.
Communications are end-to-end encrypted and users do not need to link their identifier to a phone number or e-mail, specifies the Swiss company which claims 10 million users, including 2 million for its messaging service intended for professional use.
"We heard the news last week via LinkedIn", said Roman Flepp, marketing director of Threema, in an email to AFP, welcoming that the Swiss army has chosen this messaging.
"It is a special seal of approval for us", he admitted.
Launched at the end of 2012 by three young computer engineers, the first version of the messaging system quickly met with strong demand, quickly bringing together some 250,000 users.
But a series of revelations the following year, including the Prism surveillance program unveiled by Edward Snowden or the scandal surrounding German Chancellor Angela Merkel's cell phone tapping, had caused the number of users to jump before exploding in 2014. when Facebook bought Whatsapp.
"Overnight Hundreds of Thousands of New Users Joined Threema", explained the marketing director of the company.
In 2016, Threema launched a professional version of its messaging system, used in particular by public institutions but also by large companies such as Daimler, Bosch or Thysenkrupp. Some 80% of its users are located in Germany, Austria and Switzerland.