News
The stock market plummets, the price of oil soars, the war in Ukraine worries the markets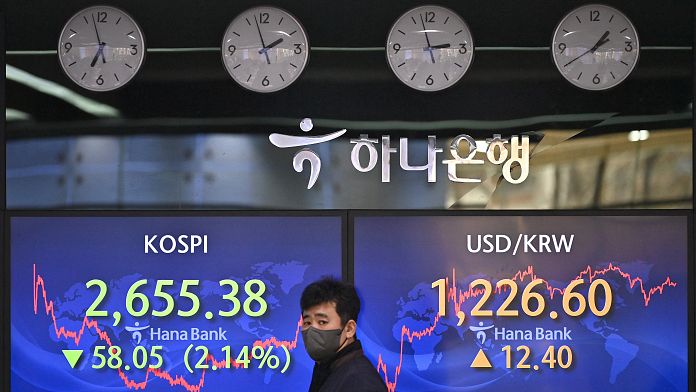 A possible Western embargo on Russian oil caused oil prices to soar again on Monday and caused the fall of stock markets which fear a slowdown in the world economy.
The price of a barrel of Brent from the North Sea came close to 140 dollars on Sunday evening, close to its absolute record of 147.50 dollars dating from July 2008.
After falls of 4% to 6% on Friday, European stock markets opened in the red again. Around 08:50 GMT, Frankfurt dropped 4.48%, Paris 4.25%, Milan 5.28% and the London market, which has been more resilient since the start of this crisis, lost 2.42%.
The Tokyo Stock Exchange closed down 2.94% to its lowest level since November 2020, that of Shanghai at -2.17%. Losses in Hong Kong were even worse: -3.87%.
Conversely, safe havens are sought after: the price of gold briefly exceeded $2,000 an ounce, a first since August 2020, and the dollar gained 0.66% against the euro.
Faced with the worsening war in Ukraine, US Foreign Minister Antony Blinken said on Sunday that the United States and the European Union were "very actively" discussing the possibility of banning imports of Russian oil.
Europeans are more cautious, however, as some regional states such as Germany are heavily dependent on Russian oil and gas.
But even if the black gold of Moscow is not directly sanctioned for the moment in theory, it already finds almost no buyer, which seriously disturbs the world supply.
Gas prices also ignited, its European price jumping 60% to more than 300 euros per megawatt hour.
Aluminum and copper at the highest
An escalation of the conflict in Ukraine would have "devastating" economic consequences worldwide, the International Monetary Fund (IMF) warned on Saturday.
Besides the conflict itself, the sanctions imposed on Russia "will also have a substantial impact on the world economy and financial markets, with collateral effects for other countries", according to the IMF.
"While the outlook for economic growth has darkened, the inflation picture is even worse as energy and agricultural commodity prices have soared year-to-date, and this toxic cocktail poses a huge problem for central banks"said Michael Hewson, an analyst at CMC Markets.
Metal prices also continued to rise: aluminum exceeded the bar of 4,000 dollars per tonne for the first time and copper reached a new historic high of 10,845 dollars per tonne.
In this context, investors will scrutinize the consumer price index in the United States in February on Thursday and will pay close attention to the conclusions of the monetary policy meeting of the European Central Bank (ECB) on the same day.
Gold and dollar strengthen
After exceeding 2,000 dollars per ounce, a first since August 2020, gold was trading at 1,997 dollars per ounce (+ 1.36%) around 08:45 GMT.
On the currency market, the euro fell sharply against the dollar, falling to 1.0867 dollars (-0.56%).
The most exposed companies penalized
Around 08:35 GMT, on the Paris Stock Exchange, Alstom, which holds a 20% stake in the Russian railway manufacturer Transmashholding, fell by 12.45%. Automakers Renault (-7.83%) and Stellantis (-10.05%) which operate factories in Russia were also penalized.
In Frankfurt, Uniper, which participated in the construction of the Nord Stream 2 gas pipeline, yielded 10.90%.
Banks tumbled: Societe Generale dropped 10.19%, Commerzbank 11.93%, Deutsche Bank 10.32%, or even Unicredit which lost 11.67%.