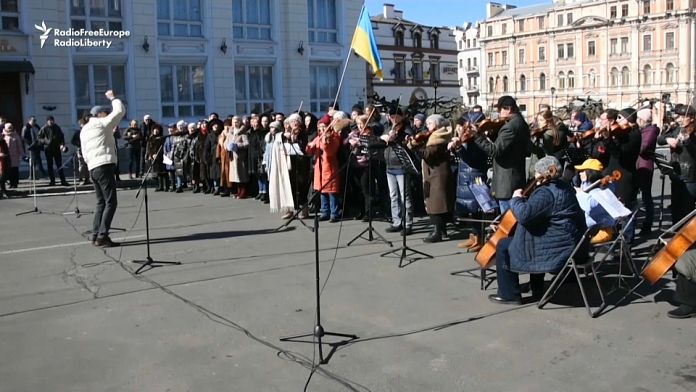 The Ukrainian anthem resounded in Odessa this week-end. The orchestra of the city in the south of the country gave an outdoor concert, in front of the National Academic Theater of Opera and Ballet, to demand an end to the war. The concert was named "Free Sky" in support of the Ukrainian President's appeal Volodymyr Zelensky to establish a no-fly zone over the country.
"The team of our opera today appeals with one united voice, said Yulia Tereshchuk, soloist at the Odessa Opera. Listen to us and close the sky of Ukraine! Save people's lives!"
Odessa Opera Deputy Conductor Anatoliy Pastukhov also spoke to the crowd: "I don't know to whom I must appeal – to Almighty God and to the leaders of all the great countries: Close the sky above us! Let us live in peace! We will take care of the rest ourselves I also want to say: We will meet again after the war in our theater. We invite everyone to our theatre."
Odessa, a port city on the shores of the Black Sea, is preparing for an imminent assault by Russian forces, which are currently concentrating on Mykolaiv a hundred kilometers to the east.