News
The Nobel Peace Prize winners speak out: "if we reject democracy, we accept war"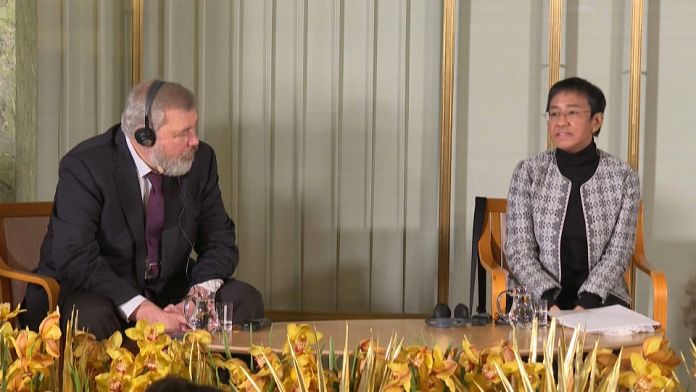 This year's Nobel Peace Prize laureates, two journalists, Filipina Maria Ressa and Russian Dimitry Muratov have become ambassadors for press freedom in a world where it is increasingly threatened. Just before their award ceremony, they highlighted the dire environment in which journalists have to work, especially under authoritarian regimes, which they both know very well.
"It's like having a sword of Damocles over your head … In a way, it's easier to work under a dictatorship, like under the Suharto administration in Indonesia for example, you know this what's wrong, what's dangerous and what isn't. Today in the Philippines press freedom laws exist, but you exercise your rights, you tell the harshest stories at your own risk and perils " explained Maria Ressa.
The Nobel Peace Prize laureate is the co-founder of the Rappler news site, a site highly critical of Philippine President Rodrigo Duterte. Maria Ressa, 58, is herself the subject of a total of seven lawsuits in her country.
On parole pending an appeal after being convicted of defamation last year, she was forced to ask four courts for permission to seek her Nobel in person.
During the press briefing, Dimitry Muratov added that it is despite everything capital to continue to report and fight for democracy around the world:
"Democracy needs to be rehabilitated. No longer believing in democracy means that over time people who turn their backs on democracy will get a dictator and dictatorship leads to war. next step. So let's be blunt: if we refuse democracy, we accept war. "
At 60, Dimitry Mouratov is the editor-in-chief of Novaïa Gazeta, a rare still independent newspaper in a largely controlled Russian media landscape, Novaïa Gazeta is particularly known for his investigations into corruption and human rights abuses in Chechnya.
The Nobel Peace Prize ceremony takes place on December 10, the anniversary of Alfred Nobel's death and as is customary, in Norway, in Oslo.
Source link