[ad_1]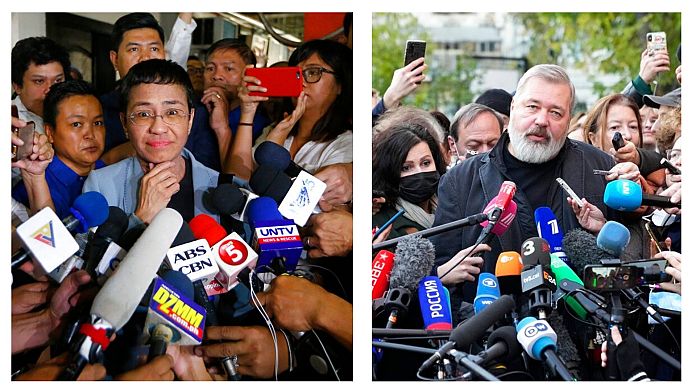 Filipina Maria Ressa and Russian Dmitri Muratov each reacted to winning the 2021 "s Nobel Peace Prize. Both advocated for freedom of expression and respect for journalists.
Dmitri Muratov, investigative journalist – Russia
Means "to honour the journalists who were killed", this is how the Russian journalist Dmitry Muratov, editor-in-chief of the newspaper Novaya Gazeta, reacted to the announcement of his Nobel Peace Prize.
"This is the reward of Anna Politkovskaya; Yuri Schekochikhin, Igor Domnikov, Nastia Baburova, Stas Markelov and Natacha Estemirova – all our fallen colleagues, who gave their lives for their profession".
Muratov recounted receiving an official congratulatory phone call, to which he asked if his diary was going to be declared "foreign agent".
"If I had been on the Nobel committee, I would have voted for the person the bookmakers were betting on, and I think that person has everything in front of him. I'm talking about Alexei Navalny."
Maria Ressa, investigative journalist – Philippines
From Manila, the capital of the Philippines, her country, Maria Ressa recorded this message :
« I hope that this Nobel Peace Prize 2021 will remind the Philippine and Russian authorities, and around the world, of the need to respect the press and journalists (…) independent journalism that holds power to account has never been more important. The Nobel Prize will help us to shine a stronger light, to pursue investigative journalism that holds power to account, to hopefully give more courage to Filipinos, both the journalists who have stood up for themselves and for our civil society, for the voters who are afraid. »
[ad_2]

Source link