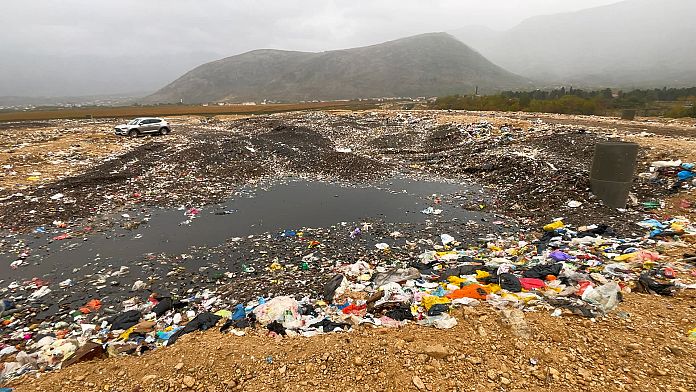 The municipality of Mostar in Bosnia and Herzegovina has come under fire for its open dump. The residents of the site are mobilizing to obtain its closure. They denounce a time bomb which degrades the environment and would cause, according to them, an increase in cancer cases among the inhabitants.Our journalist Hans von der Brelie investigated on the spot. Here is his story.
What first jumps out at me when I arrive in Uborak near Mostar is the strange dance of plastic bags in the air as a thunderstorm wind raises whirlwinds of dust. As I approach, I realize that a crowd of birds has joined this frightening ballet above the site. A strong stench covers the black waters that escape from this monstrous dump.
Uborak has become for its residents, synonymous with cancer, poisoning, fetal malformations and fatal diseases. But Uborak is first and foremost a place name associated with a controversial landfill near Mostar in Bosnia and Herzegovina. The site has reached its maximum capacity and should have been closed a long time ago, but garbage trucks still come to empty their loads of household waste.
Clandestine samples
Alongside Omer, a local resident, I discreetly cross his outer enclosure. Omer wants to take a new sample of the black-colored effluents flowing from this "dump of death" as the inhabitants call it.
The site was first used as an unofficial landfill by the army in the 1960s and later became the property of the municipality of Mostar. It is located on a karst chasm connected to the water table. Omer tells me about sheep carcasses dumped there, but also about the dumping of toxic medical waste and PCB-contaminated sludge from the city's sewage system.
"14 of my neighbors died of cancer"
It sounds disgusting, but can we call the site a "dump of death"? In the idea of ​​convincing me, Omer takes me to meet Nasuf. After offering me a coffee, the man asks me to accompany him to the village cemetery from where we can see the dump. He goes to the grave of his friend Vahid.
"We had a lot of fun together," Nasuf told me after praying in silence. "We lived on the same street, drank raki, invited each other to dinner, enjoyed life," he confides. Vahid died of cancer and it was this same disease that took Vahid's brother, but also Nasuf's father like many other neighbors. Nasuf makes a sad calculation: "This village has 140 households, 14 of my neighbors have died of cancer in the last ten years."
An arsenic content 100 times higher than the standard
Later, Omer shows me the results of the black water samples. "They are scary," Omer warns me. "They show that there is heavy pollution of copper, lead and zinc," he explains. "But the most worrying thing is the arsenic content: it is 100 times higher than the authorized standard!" he is indignant.
The "waste mafia"
Who is responsible ? Why haven't we found another location yet? And how to explain that we do not rehabilitate this toxic effluent landfill?
Mostar has been ruled for decades by Croatian and Bosnian nationalists. The two political parties have appointed their men of confidence to head the five public waste management companies. Locals call them the "garbage mafia".
An environmentalist points the finger at ethno-nationalist parties
The mayor of the town "doesn't have time for an interview," his team told me. So, let's talk to Amna Popova instead. This environmentalist was a candidate in the municipal elections, she narrowly failed, because of electoral fraud, she assures.
For Amna Popovac, the ethno-nationalist parties in Mostar are responsible for the waste scandal. She accuses the two main parties of having financed their electoral campaigns by diverting money from the purchase of advertisements extolling "good" waste management. "The parties in power are using waste management companies as if it were their cash drawer," denounces the ecologist. "If the financial inspectorate took a close look, people would end up in jail for it!" she says.
As the European Union tries to help – it funded a recycling center that was commissioned in Uborak in 2014 – Brussels is taking a harsh look at waste management across Bosnia and Herzegovina, the report of the Commission on the country judging it largely deficient.