News
The heirs of Georges Brassens in Europe, "friends first"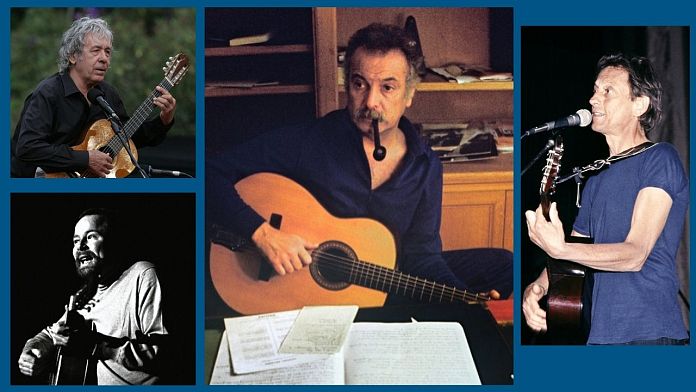 French singer-songwriter Georges Brassens would turn 100 this Friday. Born on October 22, 1921 in Sète, he died on October 29, 1981. His influence remains strong in France, but also abroad". This is evidenced by the many covers of his songs in Italian, Spanish, German, English and even Russian!
Georges Brassens has Italian roots. His maternal grandparents were from southern Italy, settled in southern France at the end of the XIX century. Georges Brassens, although clearly never fluent in Italian, bathes daily in an Italian family and environment in which dialects from the peninsula mix with local Occitan and in which the so-called "Neapolitan" song, that is to say from southern Italy, is omnipresent.
He himself will sing one of the classics of the Italian popular song, "Santa Lucia", with Tino Rossi in 1977. He gave concerts in Italy and had many friends of Italian origin, such as Lino Ventura.
His poetry, his anti-conformism inspired (and still inspires) several Italian singers. Adaptations of his songs are numerous. We will remember those of Fabrizio De Andrè (1940-1999), singer-songwriter very popular in Italy.
In 1974, he performed "Morire per delle idee" ("Dying for ideas")
Brassens' relationship with Germany began during the Second World War. In 1943, young Georges was sent to the workers' camp in Basdorf, near Berlin. He returned to France the following year.
Much later, in 2003, the municipality of Basdorf will give one of its squares the name of Georges Brassens. A music festival "Chanson-Festival Brassens" is organized here every year.
The heritage of the French artist is also and especially found in some committed singers. Rene Iskin, who formed a strong friendship with Brassens in Basdorf in 1943. In 2003, he will release an album "Back to Basdorf" containing songs written 60 years earlier.
Brassens' German-speaking heirs include Franz-Josef Degenhardt (1931-2011). Songwriter, left-wing activist, committed singer, he is sometimes called "the German Brassens".
In 1986, he released an album of covers of Brassens songs, "Junge Paare auf Bänken". With a wink to the master : To the Eternal Father (Für Georges Brassens)
Georges Brassens performed on a British stage. It was October 28, 1973 in Cardiff, Wales. A gala that will give rise to a recording, the only "live" album edited during his lifetime.
Brassens' songs have been covered in English by several artists. The best known is probably the Franco-New Zealander Graeme Allwright. He inscribes his repertoire in the footsteps of the committed singers of the 50s and 60s. It is he who will adapt in French titles of Leonard Cohen. It is also he who exports some of Brassens' songs in the language of Shakespeare.
In 1985, he released an album simply called "Graeme Allwright Sings Brassens". There he performs the famous song "Buddies first", become "Buddies First Of All".
In the 50s and 60s, Brassens multiplies songs, libertarian and irreverent. A verve that finds an echo on the other side of the Pyrenees. Spain is ruled by dictator Franco. But in Spanish artistic and intellectual circles, we recognize ourselves in the frondeur spirit of Georges Brassens.
Among his spiritual heirs are Joaquín Carbonell Martí (1947-2020), singer-songwriter, poet and journalist.
There is also Paco Ibáñez. Born in 1934, to a sympathizing anarchist father and a mother of Basque origin, Paco Ibáñez moved to France in the 50s. He set to music and sang the great Spanish and Latin American poets (Federico Garcia Lorca, Pablo Neruda, Antonio Machado) and translated and performed the songs of Brassens.
In 1979, he released an album called "Paco Ibáñez Canta Brassens" ("Paco Ibáñez sings Brassens"). Among the titles, we will remember "La mala reputación" ("Bad reputation").
Through his songs, Georges Brassens uses freedom of expression, shaking up the established order, manipulating anarchist ideas and poetry. In the post-War years, at the height of the Cold War, Brassens' words found a particular echo in the countries of the east, then under the yoke of communist regimes.
A man plays an important role in the spread of Brassens titles in Russia, that is Alexander Avanesov (1955-2017). Francophone and francophile, he translated and recorded in Russian several dozen songs of Georges Brassens, and created in 2003 the George Brassens Choir Moscow.
We will remember this Russian version of the "Song for the Auvergne", "Песня для Овернца"
To go further
Euronews recommends the series of articles entitled "Brassens in Europe", as complete as it is interesting.
We discover the versions of titles by Georges Brassens in Portuguese, Armenian, Czech…
Source link