News
The "Guernica" fresco returns to the UN after a year's absence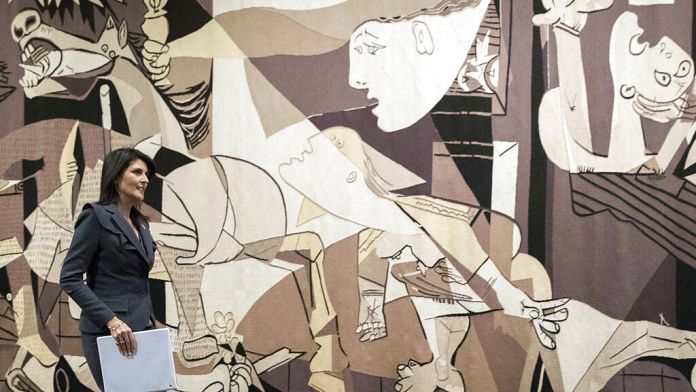 A year after his sudden disappearance, which had caused great emotion at the United Nations, the vast tapestry representing Guernica by Picasso and owned by the Rockefeller family has regained its place at the entrance to the Security Council, the UN has announced.
The tapestry representing Guernica by Picasso has returned to its place in the United Nations building in New York.
Commissioned in 1955 by Nelson Rockefeller, the tapestry taken from the work of Pablo Picasso and which represents the bombardment of the city of Guernica on April 26, 1937 by Nazi Germany and Fascist Italy, was woven by the French workshop Jacqueline de La Baume-Dürrbach.
Since 1984, it has adorned the entrance to the UN Security Council.
The presence of the tapestry, in front of which presidents, ministers and other ambassadors going to the Security Council regularly pass, aims to make them aware of the tragedy of war.
In February 2021, in the midst of an acute Covid-19 crisis and while the UN campus was deserted of its thousands of employees ordered to telework, the vast fresco had been recovered by the Rockfellers, to everyone's surprise. Supposedly to be cleaned.
Faced with the excitement aroused by this withdrawal, the work was finally reinstalled this Saturday, with the possibility for the family to take it back temporarily for exhibitions in the United States and around the world, the UN said.
"That's great", reacted a diplomat, summing up the relief of many of his colleagues, officials or journalists working at the UN in New York.