News
The French president supports the Ukrainian mayor of Melitopol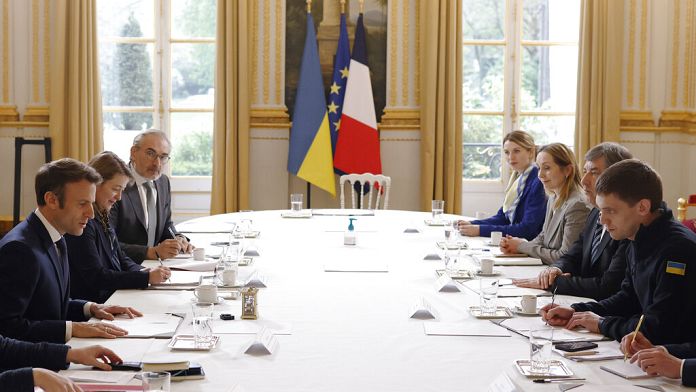 Emmanuel Macron on Friday expressed his support for Ivan Fedorovthe mayor of Melitopol, a city in the south of Ukraine which was bombed and occupied by the Russians, whom he received at the Elysée with four Ukrainian deputies.
This meeting comes before a new call from the French president with his Ukrainian counterpart Volodymyr Zelensky.
"We are happy to see you here, free, and I dare not imagine what you have been through, we were all devastated when you were kidnapped"said the French president to the elected Ukrainian, who was detained by Russian forces before being released during an exchange of prisoners.
Ivan Fedorov was notably received on Wednesday by the President of the French Senate Gérard Larcher.
"Welcoming you also means telling you, beyond what we have been able to do for a month, that we will continue our efforts by your side"added the French president.
After Ivan Fedorov's kidnapping on March 11, Volodymyr Zelensky called Emmanuel Macron and the German Chancellor Olaf Scholz to help free him.
Mr. Fedorov was released a few days later: the Ukrainian presidency released a video on March 16 showing Volodymyr Zelensky talking to him on the phone. March 21th, Tatiana Moskalkovahuman rights delegate to the Kremlin, had mentioned her exchange for nine Russian prisoners.
"Russian soldiers kidnapped me to show my colleagues what they can do to those who refuse to collaborate with Russia"the Ukrainian mayor said on the French television channel BFMTV, in English, on Wednesday, recounting having heard "screams of torture in the cells next door".
During an interview with our journalist Anelise Borges, Ivan Fedorov described the French president as "good lobbyist of Ukraine". "The French president has a strong position to provide aid and assistance to Ukraine. He tries to do everything possible and even impossible so that peace in Ukraine returns as soon as possible"he added.
Questioned by the press after the meeting, the Ukrainian deputies reported cases of wartime rape by the Russians. Asked about the situation in the besieged city of Mariupol, they described "total devastation".