News
The European Union is preparing to take sanctions against Russia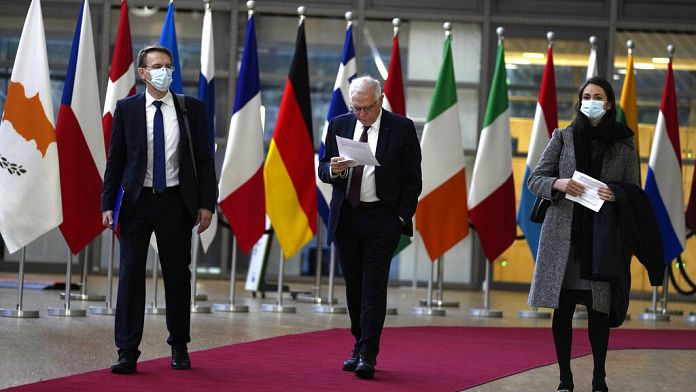 European foreign ministers are meeting in Brussels on Monday to coordinate their response to Russia in the Ukrainian file.
If diplomacy is privileged, European leaders are preparing for a possible failure of dialogue.
"When the time comes, I will ask for an extraordinary meeting, because sanctions are a competence of the Council"warned Josep Borrell, the head of European diplomacy upon his arrival in Brussels.
"We are ready to do so when the time comes. I hope that won't happen, we're working on it" he added.
Ukrainian Foreign Minister Dmytro Kuleba was invited to this European meeting, as armed clashes resume in eastern Ukraine.
"Solidarity of the 27 this morning with our Ukrainian colleague"said French Foreign Minister Jean-Yves le Drian on Twitter, who is due to meet with his Russian counterpart during the day.
The resurgence of violence in the Donbass is a judged situation "very seriousby Danish Foreign Minister Jeppe Kofod.
"We hope and work for the best: no war. But we are preparing for the worst if Vladimir Putin continues his provocations and his contempt for diplomacy" he said on his arrival in Brussels.
According to Kiev, fourteen bombardments by pro-Russian rebels were listed in eastern Ukraine, injuring a soldier.
The separatists for their part reported the death of three civilians in the bombardments in the past 24 hours, as well as the explosion of an ammunition depot in the Novoazovsk region, accusing "Ukrainian saboteurs" of being responsible.
France announced Sunday evening that Vladimir Putin and Joe Biden had agreed to a meeting soon, but the Kremlin finally deemed it premature, dampening hopes of a resumption of direct dialogue between Moscow and Washington.