News
The EU is closely following the massive influx of Ukrainian refugees in border countries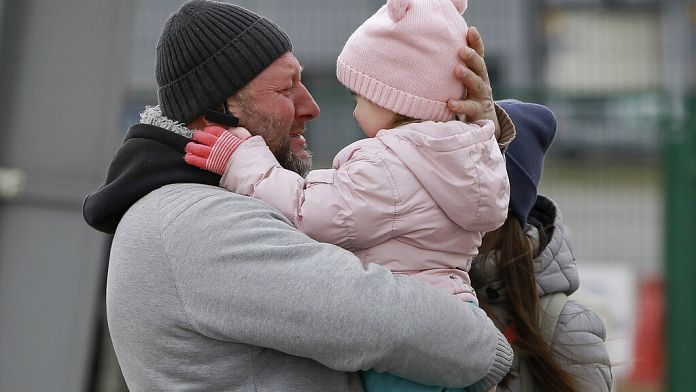 Several hundred thousand Ukrainian refugees fleeing the invasion of their country by Vladimir Putin's Russia have flocked to border countries since Thursday, according to the authorities of these host countries.
Preparing for a humanitarian crisis "of historic proportions" in Ukraine
According to a UN estimate, the European Union must prepare for a humanitarian crisis "of historic proportions" in Ukraine, which could lead to "more than 7 million" internally displaced persons if the Russian offensive continues.
Some 368,000 refugees have fled fighting in Ukraine since the Russian invasion launched on Thursday for neighboring countries and their numbers "keep increasing"the United Nations said on Sunday.
This number "is based on data made available by national authorities"underlined the High Commissioner for Refugees (UNHCR) in a tweet.
EU calls on member states to cut red tape
The European Commission has urged Member States to cut red tape for Ukrainian citizens fleeing war to safety.
The 27 decided to accept Ukrainian refugees without seeking asylum. This open door policy must remain in effect for a maximum of three years.
Brussels will also release funds to support countries on the front line
European countries on the front line to help refugees
Poland
Nearly 200,000 people from Ukraine have entered Poland since the start of the Russian invasion of this former Soviet republic on Thursday, according to Polish border guards.
Poland, which was already home to around 1.5 million Ukrainians before the Russian invasion and which has expressed its unwavering support for the invaded country, has so far seen a large proportion of those fleeing Ukraine enter its territory. .
Throughout the country, people are organizing on social networks, collecting money, medicines, offering accommodation, meals, work or free transport for refugees.
Romania
According to the government spokesman, a total of 47,000 Ukrainians have entered Romania since Thursday. Among them, 22,000 have already left the country, while 25,000 have remained in Romania.
The busiest border post is that of Siret (north), followed by Sighetul Marmatieialso in the North.
Two camps were set up, one to Sighetulcurrently empty, and the other at Siretwhose forty occupants must be transferred to reception centers.
Hungary
According to Hungarian police, more than 71,000 refugees have arrived in the country since Thursday.
The country has five border crossings with Ukraine and several border towns, such as Zahonyhave converted public buildings into relief centres, where Hungarian civilians come to offer food or assistance.
Hot bowls of goulash, offers of accommodation or simply a word of comfort: Hungarians rushed to the border with Ukraine this weekend to offer their support to refugees pushed on the road by the Russian invasion.
Even the sovereignist Prime Minister Viktor Orban, known for his anti-migrant policy, made the trip and relaxed the country's strict asylum rules.
Moldova
More than 41,000 people from Ukraine have arrived on Moldovan territory, according to the UNHCR.
Slovakia
More than 17,600 Ukrainians have crossed the Slovakian border since Thursday, according to the UNHCR. 6,514 arrived in the night from Saturday to Sunday alone, according to the Interior Ministry.