News
"Thank you for your fight": visiting Kyiv, Nancy Pelosi reaffirms the commitment of the United States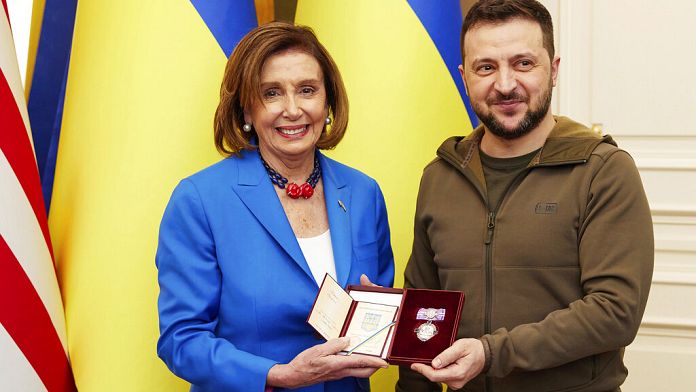 Speaker of the House of Representatives Nancy Pelosi met Ukrainian President Volodymyr Zelensky on Sunday May 1 during a surprise visit to kyiv.
"Thank you to the United States for helping to protect the sovereignty and territorial integrity of our State", tweeted the Ukrainian president to accompany a video where we see him, flanked by armed guards, welcoming Nancy Pelosi and a congressional delegation in front of the presidency in kyiv and then meeting with the American delegation.
"The United States is a leader in strong support for Ukraine in the fight against Russian aggression", continued the Ukrainian president.
"Our delegation traveled to Kyiv to send an unequivocal and resounding message to the world: the United States stands with Ukraine", according to a statement from the American delegation which then travels to southeastern Poland and Warsaw.
Additional help
"More US support is on the way", underline the American parliamentarians who assure that they will "turn President Biden's strong request for funding into a legislative package".
This visit comes a week after the trip to kyiv by the head of American diplomacy Antony Blinken and the American Minister of Defense Lloyd Austin.
During their trip, the two officials announced the gradual return of an American diplomatic presence in Ukraine and additional direct and indirect aid of more than $700 million.