News
Testimonial | The ordeal of the Ukrainians who had to leave everything to take refuge in Poland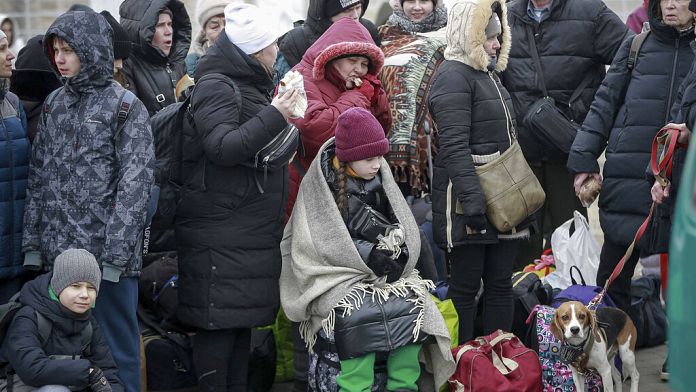 According to the UN, since the beginning of the Russian invasion, nearly 1.37 million people have already fled Ukraine, and more than 750,000 people have taken refuge in Poland.
With such an evolution of population movements, the Office of the United Nations High Commissioner for Refugees, estimates that "4 million people could flee Ukraine in the weeks and months to come".
Ukrainian refugees arrive in Poland with light suitcases in their hands, but a heavy burden on their shoulders. Setting foot on Polish soil means for them security, but also sadness.
Refugees, mainly women and children, arrive daily at this reception center near the border in Przemysl. Many left behind loved ones who stayed to fight.
These women, who had to leave everything behind, spoke to euronews:
"I lost my home, I lost everything"
"I want to go home. I want to go back to Kiev to my apartment. I don't want to go anywhere else. Look what they did to us. It could happen to anyone," says Liuba who can no longer hold back her tears.
Here all paths cross here. These people come from all over Ukraine, and they are exhausted from a long journey.
Alina Kosinska is a dentist in Zaporizhia, she has just learned that the nuclear power plant near her town has been bombed: "I lost my house, I lost everything. I had a job there, and now I have to flee my country because a madman wants it, and I don't even know what he wants".
The refugees wait in the cold. For many, it is only a stopover to destinations still unknown.
"I think we're going to win the war because…"
Veronika Kilchitzka is only 20 years old and one of those people who gave up everything, but she remains optimistic for the future:
"Really no one expected this, it all happened so fast. Personally, I still can't believe it. The whole world is talking about it. It's scary to think that something like this could happen in the 21st century. But I believe in our men, those who volunteered to defend our country. I think we will win, because Russia fights with an army, whereas in our country it is the people who fights."
Poland organizes itself to receive refugees
The Polish authorities are trying to adapt quickly to deal with the Ukrainian exodus. Our special correspondent, Monica Pinna testifies of one of these centers:
"We are in a former supermarket which has been transformed into a reception center for refugees. They are constantly arriving, some waiting for a few hours to catch another bus, while others spend the night here, the time to know where to go ."