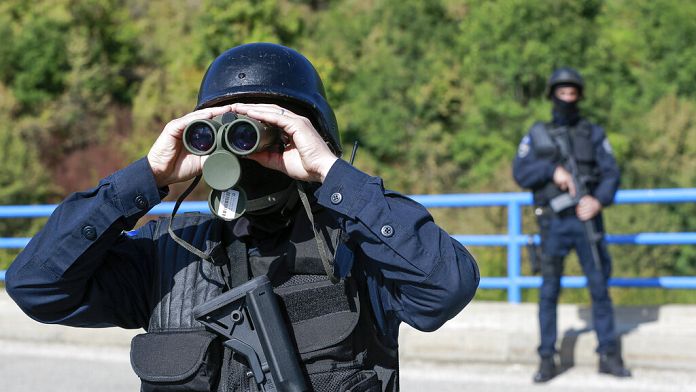 Two Kosovo government"s vehicle registration offices were attacked and damaged early Saturday in the northern part of the territory, the Prime Minister said Albin Kurti, accusing the Serbia of wanting "provoke a conflict".
The attacks come on the sixth day of protests by the majority Serbs in northern Kosovo, to protest the decision of Pristina prohibit the entry into the territory of cars with Serbian license plates.
A registration office was set on fire in the small town of Zubin Potok and another was demolished at Zvecan, without causing casualties, said the Prime Minister.
The attackers threw two hand grenades at the desk at Zvecan but they did not explode, according to the same source.
The border area between Kosovo and Serbia was overflown around noon twice by Serbian army fighter jets, an AFP correspondent reported.
Serbian army helicopters had also flown over two border crossings blocked by protesters several times on Friday. Helicopter overflights of KFOR, the NATO force deployed in Kosovo, have been regular since the beginning of the week.
"Serbia clearly encourages and supports them (…) Serbia abuses the citizens of Kosovo to provoke a serious international conflict", accused Albin Kurti, on his Facebook account..
"Reciprocity measure"
A former Serbian province, Kosovo declared independence in 2008 but it has not been recognized by Belgrade, which encourages Serbs living in Kosovo – mostly Albanians, except in the north-not to recognize Pristina's authority.
The Kosovo government on Monday deployed special police forces near two border crossings with Serbia in the north to enforce its decision, which Pristina says is a "reciprocity measure".
The authorities in Pristina now require vehicles registered in Serbia to remove Serbian number plates and to affix temporary plates to drive in Kosovo.
But hundreds of Serbs blocked with heavy trucks the traffic on the roads leading to the two border crossings. They demand the annulment of this measure.
Pristina justified its decision by the refusal for years of Serbia to allow vehicles registered Republic of Kosovo (RKS), while until now Serbian cars entered and circulated freely in Kosovo.
The United States and the European Union have called for the de-escalation of tensions and for the return of both sides to the dialogue on the normalization of their relations, which has been conducted for a decade under the leadership of Brussels.
The Serbian President conditions the resumption of this process by the withdrawal of Kosovar special forces from northern Kosovo.