News
'Telephone diplomacy' has failed to ease tensions around Ukraine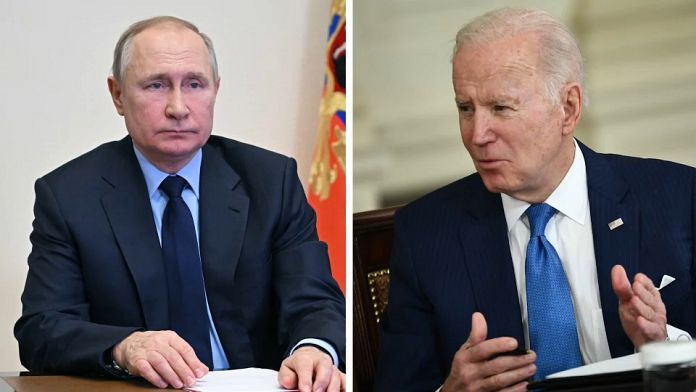 "Telephone diplomacy" between Washington, Moscow and Paris has failed to resolve the Ukrainian crisis.
Diplomatic efforts marked by a frenzy of phone calls on Saturday between Western leaders and Moscow failed to ease tensions around Ukraine, with the Kremlin denouncing US "hysteria" and Joe Biden threatening Vladimir Putin with "severe repercussions and fast" in the event of an attack.
Washington insisted Friday on the risk of an "imminent" invasion of Ukraine by Russia, which has massed more than 100,000 troops near the border and has just begun military maneuvers in the Black Sea and Belarus, framing de facto the country.
"An invasion will have rapid and severe consequences for Russia"
Such an invasion would have consequences "fast and tough" for Russia, warned Joe Biden on Saturday during an interview with his Russian counterpart. She "would cause considerable human suffering and weaken the position of Russia", according to the White House.
"The hysteria has reached its peak", then commented the diplomatic adviser to Vladimir Putin, Yuri Ushakov, while specifying that the two presidents had agreed "to continue contacts at all levels".
This exchange did not "driven by fundamental change", acknowledged a US official on condition of anonymity. According to him, "we still don't know if Russia will favor diplomacy over the use of force".
Same observation in Paris, during a telephone conversation earlier in the day with Vladimir Putin, French President Emmanuel Macron estimated that a "sincere dialogue was not compatible with a __military escalationon the Russian-Ukrainian border.
Emmanuel told him again "determination to react" Westerners in the event of a Russian military operation, and that he was going to continue his diplomatic efforts by calling Joe Biden this Saturday as well as German Chancellor Olaf Scholz and Ukrainian President Volodymyr Zelensky.
The German Chancellor is to take up the torch, going to Kiev on Monday and Moscow on Tuesday.
The number of countries calling on their nationals to leave Ukraine is increasing
At the same time, the list of countries calling on their nationals to leave Ukraine continues to grow, with in particular Germany, Italy, the United Kingdom, the Netherlands, Canada, Norway and even Ukraine. Australia, Japan and Israel.
Moscow also recalled some of its diplomatic staff, claiming to fear adverse "provocations".
The United States also ordered the departure of most of the personnel of the American embassy in Kiev, noting that a Russian offensive could "begin at any time and without warning". Some 160 American soldiers who were training Ukrainian forces were also ordered to leave.
"Too alarmist American statements"
Ukrainian President Volodymyr Zelensky for his part once again deemed the American statements too alarmist.
"All this information (about a possible attack) only causes panic and does not help us," he said.
In Kiev, thousands of demonstrators marched on Saturday, saying they refused to give in to panic precisely, even if they took the threat seriously.
"Panic is useless. We must unite and fight for our independence", says student Maria Shcherbenko, holding a sign "I remain calm. I love Ukraine".
"The most dangerous crisis in Europe since the end of the Cold War"
Adding to tensions, Russia launched new naval maneuvers in the Black Sea on Saturday to practice "defending" Crimea, a peninsula annexed in 2014.
Westerners rule out committing their armies in the event of war, but have planned devastating economic reprisals.
This crisis is, according to Westerners, the most dangerous in Europe since the end of the Cold War.