News
Syria: bomb attack kills at least 13 people in Damascus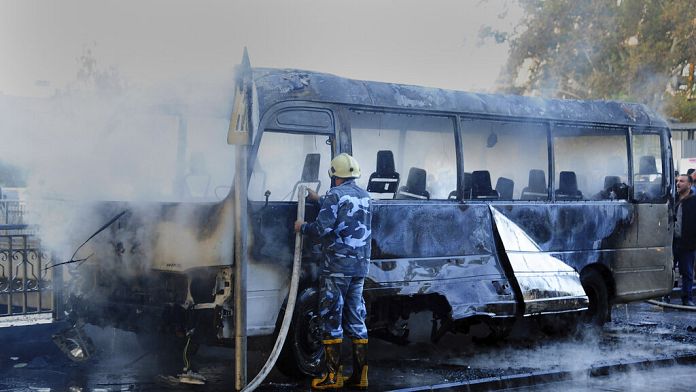 Two bombs exploded near a military bus during rush hour early this morning in the Syrian capital"s. An attack that killed at least 14 people and injured several others.
Syrian state TV showed the images of this charred bus in central Damascus, at a crossroads, under a bridge. A third bomb was discovered and dismantled in the same area, according to state television, which said no one claimed responsibility for the attack.
Such attacks in Damascus have become rare in recent years as government forces have captured suburbs once held by insurgents.
"This is a cowardly act", said Damascus police commander General Hussein Jumaa on state television, adding that police forces immediately cordoned off the area and made sure there were no more bombs. He urged the public to inform the authorities of any suspicious objects they see.
Police commander Jumaa said one of the injured died from his injuries later in the morning on Wednesday.
In August, Syrian state media said a short circuit triggered an explosion in the gas tank of a bus also carrying soldiers, killing one and injuring three.
President Bashar Assad's forces now control most of Syria. The conflict in Syria, which began in March 2011, has killed more than 350,000 people and displaced half the country's population, including five million refugees abroad.
10 years later, there are more than 13 million Syrians in need of humanitarian assistance and almost 90% of them live below the poverty line according to the UN envoy for Syria, Geir Pedersen.
Source link