News
Switzerland approves gay marriage by a broad"yes"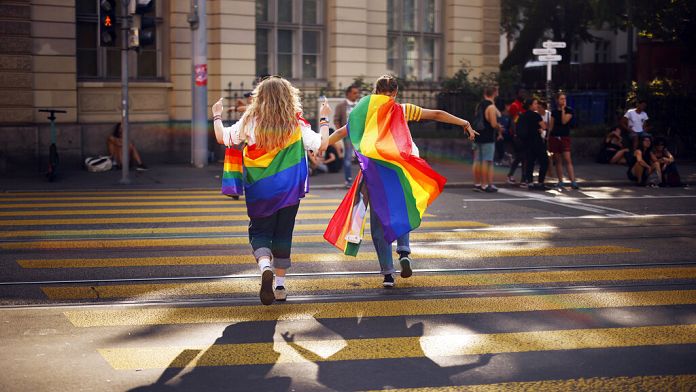 Switzerland joined the majority of Western European countries in casting a resounding " yes " to marriage for all in a referendum held on Sunday.
According to the most recent numerical estimate of the gfs survey institute.bern, yes won with 64% with a margin of error of plus or minus two percentage points.
This result, still provisional but which can no longer be reversed, clearly exceeds the score announced by the polls before this election which was opposed in particular by the populist UDC party, the country's largest party and certain religious groups.
"This is a historic day". The formula was on everyone's lips at the YES supporters ' HQ, in a restaurant in Bern, strutted with rainbow flags, where some 200 to 250 people gathered.
Shock posters against gay marriage
In the run-up to the election, the no camp had returned to its colours by running a campaign strongly focused on the well-being of the child, his development and the importance to him of the couple composed of a father and a mother.
Shock posters lamented the commodification of the child and claimed that "marriage for all kills the father".
One of them shows a crying baby, with a tag on his ear usually reserved for cattle, and this question: "Babies on order ?".
On another, a huge zombie head, supposedly representing a deceased father, stares at passers-by. A primary school in Valais had even decided to cover it because it scared the children.
A long battle to get there
Same-sex couples could already make a civil pact in Switzerland, and on Sunday the cantons that opposed it seemed for the most part to have voted in favor of same-sex union 16 years later.
The Parliament had approved same-sex marriage at the end of 2020. His opponents from conservative circles then launched a referendum to try to block it, but it ended Sunday with almost two thirds (64%) of votes in favor of marriage for all.
The new legislation provides, inter alia, that same-sex couples may adopt a child jointly. Female couples will also be able to resort to sperm donation. This was one of the most controversial points and put forward by opponents.
Benjamin Roduit, national councillor (deputy), of the Centre Party, stressed on the public channel RTS that for him marriage for all between consenting adults is not a problem.
On the other hand, he fears the doors that he believes open to sperm donation for lesbian couples. "The success of our campaign may have been to have thematized the child in LDCs (assisted reproduction)," he said.
Countries that recognize marriage for all
In 1989, Denmark became a pioneer in allowing the first civil unions for same-sex couples.
But it was the Netherlands that, in April 2001, became the first country to legalize same-sex marriage, which granted more rights. Since then, 15 European countries have followed suit : Belgium, Spain, Norway, Sweden, Portugal, Iceland, Denmark, France, Luxembourg, Ireland, Finland, Malta, Germany, Austria, United Kingdom. They are now 16, along with Switzerland.
Civil union remains the only status allowed for same-sex couples in Hungary, Croatia, Greece, Cyprus, Italy and the Czech Republic. In the latter country, the legislative process to allow marriage for same-sex couples is underway, but its outcome is uncertain.
Slovenes, who recognize a civil union, rejected gay marriage in a referendum in 2015.
Estonia became in October 2014 the first former Soviet republic to grant civil union to homosexuals.
In Romania, where gay marriage is not allowed, a referendum to enshrine the ban in the Constitution was invalidated in October 2018, due to strong abstention.
Canada was the first country in the Americas to legalize same-sex marriage in June 2005.
In the United States, it was not until June 2015 that the Supreme Court legalized gay marriage throughout the country, while 14 out of 50 states prohibited it.
In 2019, the very first same-sex marriage in the history of the United States (1971) was officially validated after a court battle lasting almost half a century. At the time, a Minnesota registrar did not realize that both spouses were of the same sex.
In Latin America, six countries allow same-sex marriages: Argentina since July 2010, Uruguay, Brazil, Colombia, Ecuador since 2019, Costa Rica since 2020.
In Chile, where a civil union pact is in force for same-sex couples, marriage was authorized by the Senate in July 2021 but the legislative process is not finished.
Mexico City was the first in Latin America to allow same-sex civil unions in 2007, before legalizing marriage in 2009, which has gradually become legal in half of Mexico's 32 states.
Cuba, faced with the rejection of a part of the population and the Catholic and Evangelical Churches, has renounced to inscribe gay marriage in its new Constitution adopted in 2019. In the spring of 2021, a commission was created to draft a new Family Code, which should include same-sex marriage before being put to a referendum.
In Taiwan, the Parliament legalized same-sex marriage in 2019, two years after a landmark Constitutional Court ruling.
In Japan, the northern Sapporo Court of first instance ruled in March 2021 that the non-recognition of same-sex marriage was unconstitutional, a first.
In the highly repressive Middle East, Israel is a timid exception. Without being illegal, gay marriage is not possible there, for lack of institution authorized to pronounce it, but is recognized when it was contracted abroad.
In Oceania, New Zealand legalized same-sex marriage in 2013. Australia only allowed such unions in December 2017, by a vote of Parliament.
On an African continent where thirty countries ban homosexuality, South Africa stands out, having legalized gay marriage since 2006.
Source link