News
"Stop this madness!" : rallies around the world against the Russian invasion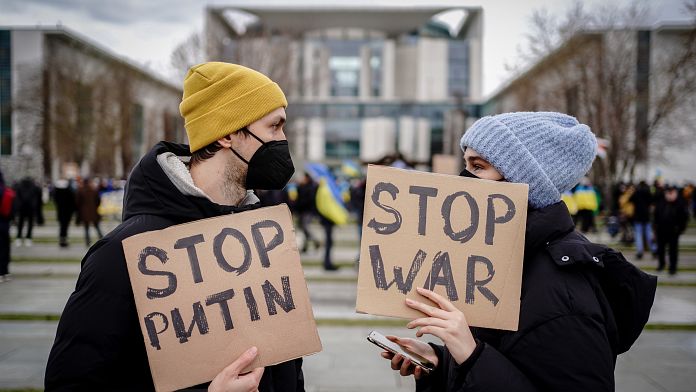 "Stop this madness!" : in Berlin, Paris or Warsaw and Istanbul, demonstrators protested Thursday in many countries against the Russian invasion of Ukraine.
"Stop this madness, save life, no more lies": in front of the Russian embassy in Berlin, a demonstrator holds up this sign. Many others wear Ukrainian colors.
Among the protesters, Russians clearly castigate the military operation launched by Moscow.
"Everyone should come here today and support Ukraine and say that the war must end," Olga Kupricina, 32, from Kaliningrad and living in Germany since October, told AFP.
"Hell"
"Ukrainians and Russians are brothers and sisters. All my friends and relatives are in shock and don't want war," she says.
"We want to show that we are against the war. We are Russian and come from Russia. Ukraine has always been a very friendly country with us and a close country", abounds Ekaterina Studnitzky, 40 years old, 16 of whom spent in Germany.
Ukrainians took part in another gathering, at the foot of the mythical Brandenburg Gate.
Vladimir "Putin has already robbed my house because I am from Donetsk and my family and I had to leave because of the war," says Sofia Avdeeva, a 22-year-old student.
"I don't want the whole of Ukraine to know the same fate. I already said goodbye to my house but I don't want the whole country to go through the hell we went through," she continues. , before launching that the Russian president "should die".
"He is a war criminal, he did not declare war and he attacked peaceful cities," she denounces.
Many demonstrations are planned in most major German cities.
In Paris, several hundred people were also gathered in front of the Russian embassy, ​​including several candidates for the presidential election in April such as the ecologist Yannick Jadot or the former minister Christiane Taubira.
A large rally is planned for the end of the day on the Place de la République, in the heart of Paris.
"No one is immune"
In Warsaw, a country bordering Ukraine, a Russian flag was burned by a demonstrator in front of the Russian embassy.
Rallies had earlier been held in Beirut and Tokyo. In Dublin, The Hague and Amsterdam, hundreds of people also took part in rallies on Thursday in front of Russian representations.
In Istanbul, around 40 people gathered Thursday morning in front of the Russian consulate in Istanbul to sing the Ukrainian anthem and hold up portraits of the Russian president, his face covered in blood.
The Ukrainian diaspora also called for a rally in Bern attended by several hundred people under the slogan "Stop Putin's war".
In Sofia, a hundred demonstrators massed in front of the Russian embassy. "It can happen to any country, no one is immune," said the president of Ukrainian organizations in Bulgaria, Olena Kotseva.
"We feel destroyed (…) It's a very bad feeling when your mother calls you at 6 a.m. and tells you that the war has started. So we decided to leave our workplace to come and say + no + in front of the Russian embassy," Yevhenii Osypchuk, a 27-year-old auto mechanic, who attended a rally in Stockholm, told AFP.
In Russia, several dozen people who demonstrated against the Russian invasion of Ukraine were arrested Thursday in Moscow and Saint Petersburg for defying the ban on gathering decreed by the authorities, according to AFP journalists .
Dozens of protesters were arrested near Pushkin Square in the Russian capital and around twenty others in Russia's second city as they shouted "No to war!".