[ad_1]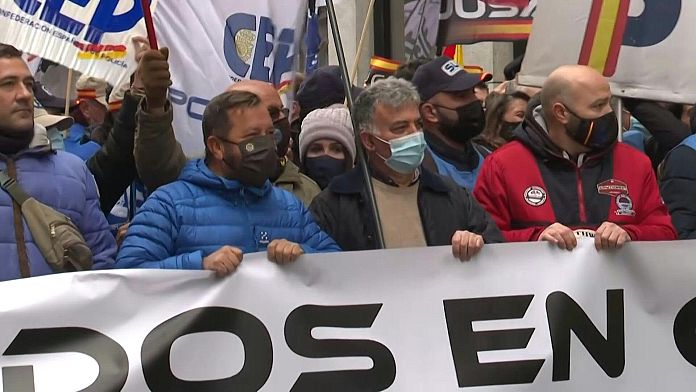 Several thousand members of the Spanish security forces demonstrated on Saturday, alongside leaders of right-wing parties, against a bill to reform a law, dubbed the "gag law" by its detractors, which has banned since 2015 the use without authorization of images of the police if they could endanger them.
Protesters, waving Spanish flags and union banners, marched towards the Interior Ministry at the call of Jusapol, an organization of the main police and Civil Guard unions, Jupol and Jucil.
"We say + no + to reform"Jusapol president Miguel Angel Gomez told reporters. "We believe that the law must be adapted to the current period and be reformed but we must never trample on the rights of those who are in charge of security and work with this law every day."
The reform project – on which the Prime Minister's Socialists are working Pedro Sanchez and their radical left allies of Podemos – aims in particular to bring the text into conformity with the decision of the Constitutional Court which ruled last year "unconstitutional" the fact of having to request an authorization to use images of the police because it is similar to of the "prior censorship".
This law was adopted in 2015 under the right-wing government of Mariano Rajoy in the midst of a wave of anti-austerity protests. The current left-wing government had promised to reform it.
Deemed to be liberticidal by a part of society, this law of "protection of citizen security" notably prohibits "the unauthorized use" of images of the police "which may endanger the personal or professional safety of agents. , protected installations or the success of an operation, while respecting the fundamental right to information ".
This law has similarities with the controversial French law on global security, whose controversial article punishing "provocation to the identification" of the police was censored in May by the Constitutional Council.
[ad_2]

Source link