News
South Korea: election of a president who promises more firmness against Pyongyang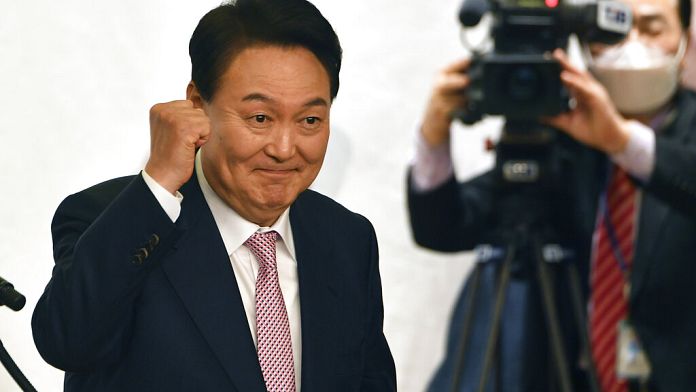 Conservative Yoon Suk-yeol, a former prosecutor new to politics, was elected president of South Korea on Thursday, narrowly defeating the candidate of the ruling center-left party and promising to pursue a more aggressive policy towards North Korea.
Mr. Yoon, the candidate of the People's Power Party (PPP), the main right-wing opposition party, won with 48.56% of the votes against 47.83% for his Democratic Party rival Lee Jae-myung, according to final results released by the election commission. The South Korean presidential election, held on Wednesday, has only one round.
"This is the victory of the great South Korean people", launched Mr. Yoon in front of his jubilant supporters, gathered Thursday at dawn in the National Assembly.
'Treat harshly' to the threat posed by Pyongyang
The PPP's return to power appears to herald a tougher foreign policy for the world's tenth-largest economy, after five years of pro-peace policy with North Korea under incumbent President Moon Jae-in.
Mr Yoon, who takes office in May, will soon face an increasingly aggressive North Korean regime, which began a record series of test firings in January, including one days before the election.
Seoul's new strongman pledged Thursday to "treat harshly"the threat posed by the Kim Jong Un regime.
"But the door to dialogue is always open", he told his supporters after visiting the Seoul National Cemetery.
Divided electorate
Mr Yoon also called for a stronger relationship with ally Washington, and spoke with US President Joe Biden early Thursday, pledging to maintain a "close coordinationon North Korea.
The turnout rose to 77.1%, confirming the strong interest of voters despite a campaign marked by scandals, verbal attacks and the lack of debate between the two favorites, both unpopular 'other.
"With a divided electorate having produced a divided government, Seoul may struggle to engage in reform policies rather than retribution policies."said Leif-Eric Easley, professor of international studies at Ewha Womans University in Seoul.
The Parliament, largely dominated by the Democratic Party, could prevent Mr. Yoon from implementing his promises.
"His lack of experience in developing real policy is very concerning.", told AFP Karl Friedhoff, of the Chicago Council on Global Affairs.
The victory over the wire of Mr. Yoon, 61, marks a spectacular comeback for the PPP, hard hit in 2017 by the dismissal and then the imprisonment for abuse of power of President Park Gung-hye, who belonged to this training.
According to analysts, the presidential result could relaunch what the media have dubbed the "revenge cycle", a characteristic of the extreme polarization of political life in this country of 52 million inhabitants: all ex- surviving South Korean presidents have served time in prison for corruption at the end of their term.
Yoon Suk-yeol will succeed outgoing President Moon Jae-in, who could not stand for re-election, for five years. He promised to order an investigation into his predecessor – who had appointed him Attorney General at the start of his term – without specifying the reasons.
But in his victory speech he was more conciliatory, saying "everyone must now strive to be one".
Concerns of feminist activists
The left-wing candidate, Lee Jae-myung, admitted his defeat, telling his supporters that he had "not lived up to expectations".
According to exit polls, the result reflects a clear gender divide among voters under the age of 30, the result of a campaign marked by statements deemed sexist by Mr. Yoon.
In this age group, 58.7% of men voted for the right-wing candidate and only 36.3% for Mr. Lee. Conversely, women of the same age voted 58% for Mr. Lee and only 33.8% for Mr. Yoon.
"I have a heavy and desperate heart," acknowledged Kim Ju-hee, a feminist activist for whom Mr. Yoon's victory "set a precedent where an elected president can openly mock women".
A point of view shared by Keung Yoon Bae, an academic for whom "the massive support Mr. Yoon enjoys among young men is terrifying for a woman".
Mr. Yoon's proposal that has received the most attention seeks to abolish the Ministry of Gender Equality, on the grounds that, despite data to the contrary, South Korean women do not suffer from "systemic discrimination between gender," he said.
Mr. Yoon, completely new to politics, campaigned by proposing a relaxation of labor law, aimed in particular at the minimum wage and the maximum working time.