News
South Africa: President Cyril Ramaphosa positive for Covid-19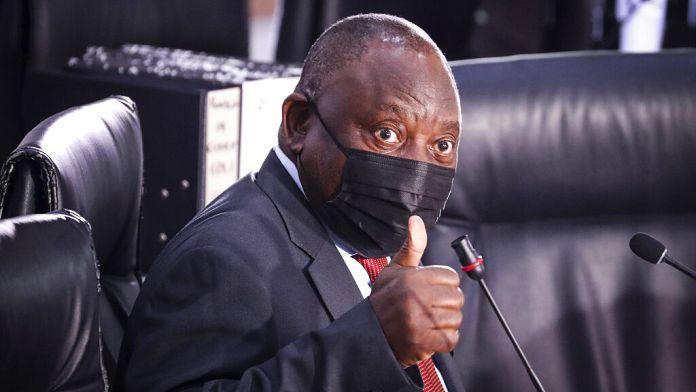 South African President Cyril Ramaphosa tested positive for Covid-19 on Sunday and started treatment, suffering from mild symptoms of the disease.
Mr Ramaphosa, 69 years old and vaccinated, began to feel "bad" after leaving the official ceremony in Cape Town at midday in honor of former President Frederik de Klerk, who died in November, the presidency said in a statement. communicated late in the evening.
The head of state wore a black mask during the ceremony, which gathered around 200 people in a church in the city, except when he delivered the eulogy.
"The president, who is fully vaccinated, has isolated himself in Cape Town and has delegated all his responsibilities to Vice President David Mabuza for next week", added the office of the president, adding that the ceremony was held in the respect of the sanitary rules.
However, people who have been in contact with Mr Ramaphosa have been advised to watch for symptoms or to get tested.
The Head of State is followed by the army health services. For the moment, no information has been communicated specifying whether it had been contaminated by the new Omicron variant detected in November in South Africa.
Cyril Ramaphosa recently made an official visit to four West African countries, during which he underwent regular tests. When he returned to South Africa on December 8, he had tested negative, the presidency said.
Omicron and Africa
Omicron is now the source of the vast majority of contaminations in the southern African country, which has seen an exponential increase in cases since its appearance. Hospitalizations, however, remain fairly low.
The continent recorded more than 107,000 new infections of Covid-19 during the week that ended on December 5, against only 55,000 the previous week, according to WHO Africa. Omicron's share of this increase remains to be determined.
Southern Africa recorded the largest increase, 140% on average. According to the first data from South Africa the variant could however cause "less severe forms of the disease", according to WHO Africa.
Only 7.8% of the 1.2 billion Africans are so far fully immunized.
Source link