News
Social First of May and for Ukraine: from Istanbul to Paris, clashes punctuated the demonstrations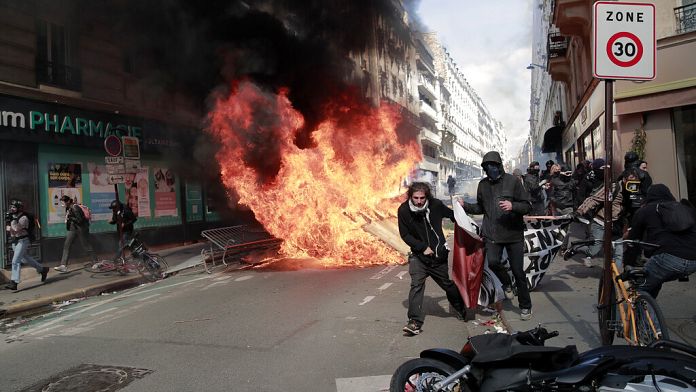 On this first of May, a week just after the re-election of Emmanuel Macron, several tens of thousands of people marched in France and in Paris numerous clashes pitted the police against groups of young people dressed in black.
A firefighter was injured, 45 people arrested and about twenty signs ransacked.
In Italyafter two years of anti-covid restrictions, Rome has seen the return of the traditional Labor Day concert in St. John's Square.
The trade union confederations had the message: "Work for peace", with slogans for peace in Ukraine and more social justice.
"We can breathe a little freedom" rejoices a young man. "To see all these people here, without masks, laughing and joking, being together. And not thinking for a second that Covid is intoxicating."
In GermanyChancellor Olaf Scholz took advantage of May Day to respond to an open letter in which writers and philosophers ask him to stop sending heavy weapons to Ukraine.
Olaf Scholz, German Chancellor: "I respect all pacifism, I respect all attitudes, but it must seem cynical for a Ukrainian citizen to be told to defend himself against (Vladimir) Putin's aggression without arms. outmoded."
In Greecethousands of demonstrators marched in Athens and demanded more measures to support purchasing power.
On this Labor Day, the Greek government raised the minimum wage by 50 euros, which now stands at 713 euros, not me, while the unions are demanding a minimum of 825 euros.
Inflation in Greece reached 9.4% in April.
To Madrid also, about 10,000 people took to the streets of the Spanish capital to demand wage increases and measures against inflation.
Across Spain, motorcades lambasted the rising cost of living, housing prices and plummeting purchasing power.
First May particularly tense in Istanbulwhere dozens of people were arrested by the police.
The clashes took place as several groups sought to reach Taksim Square, the epicenter of major anti-government protests in 2013 and now closed to traffic and marches.