News
Sicily: three dead and six missing after an explosion affecting buildings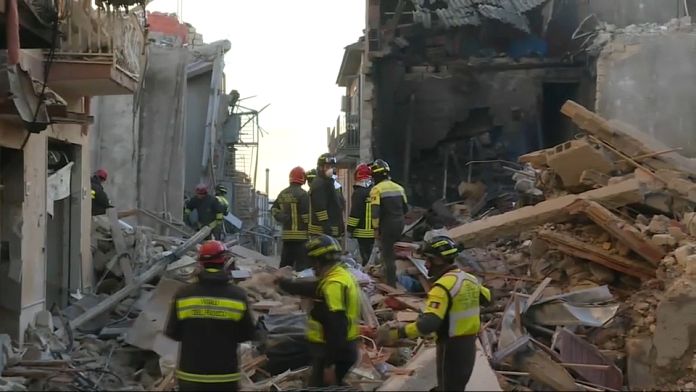 Three people have died and six are missing after an explosion that hit several buildings in the town of Ravanusa, Sicily, according to a revised report on Sunday from local authorities.
Two women were found alive under the rubble by the emergency services, helped by detection dogs.
The local Civil Security indicated on its Facebook page that the death toll was three, and not four as it had previously indicated.
Rescuers and their sniffer dogs were still looking for missing people after this disaster on Saturday evening (7:30 p.m. GMT) in the south of the Italian island in the Mediterranean Sea.
Their task is however made difficult by the pile of rubble, gigantic according to television images, with buildings charred and damaged around them.
The number of buildings collapsed or affected was not yet determined Sunday morning. The first reports cited an apartment building, but according to the website of the Sicilian regional civil protection unit "four buildings are affected".
According to local reports, up to 10 buildings were affected, figures which could not be confirmed by AFP.
Firefighters were sorting through the high pile of concrete, in which various ovens, air conditioners and other household appliances could be seen.
"Everything is extremely difficult because the buildings have collapsed on top of each other and the rubble overlaps", explained the fire chief of the province of Agrigento, Giuseppe Merendino, quoted by the daily Giornale di Sicilia.
"We have to look for spaces between the rubble to retrieve the missing," he said. "Now, unfortunately, the dogs have given us no further indication and we have to search by other methods."
A "huge shock wave" was felt 100 meters away, said Salvatore Cocina, head of the Sicilian civil protection unit.
A gas leak could be the cause of the accident. "Gas probably accumulated in a cavity. This pocket of gas could then find an accidental trigger: a car, an elevator, an electrical application", commented on the channel Rainews 24 Giuseppe Merendino.
Shortly after the explosion, the mayor of Ravanusa, Carmelo D'Angelo, appealed on Facebook to "anyone with shovels and bulldozers". "It's a disaster," he said.
About 50 people have been displaced, the mayor said on Rainews24.
Source link