News
Ship on fire off the Azores, crew rescued by Portuguese Navy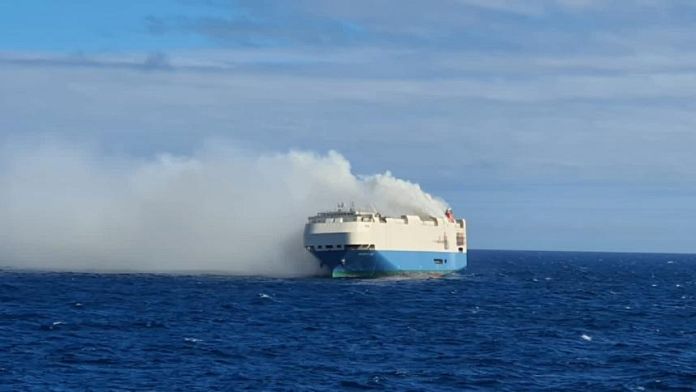 Portuguese authorities rescued the crew of a burning merchant ship off the Azores in the Atlantic Ocean. All 22 crew members were recovered safe and sound.
Portuguese authorities on Thursday rescued the 22 crew members of a merchant ship flying the Panamanian flag aboard which a fire broke out on Wednesday off the Portuguese archipelago of the Azores.
"All 22 crew members were rescued and transported to a hotel on Faial Island", explained to AFP a spokesperson for the Portuguese navy, specifying that no injuries were to be deplored.
Vessel "Felicity Ace"was 90 nautical miles (about 170 kilometers), southwest of the island of Faial in the Azores, when the alert was given after a fire broke out in its hold. The origin of the fire is not still known.
The fire of "Felicity Ace", which transported high-end cars from Germany to the United States according to local media, "continued to progress"Thursday but"the stability of the vessel is not a concern", confided Joao Manuel Mendes Cabeças, captain of the port of Horta in Faial, to the public channel RTP.
no pollution
Tugs from Gibraltar are "expected monday", he clarified.
The crew, of Russian and Filipino nationality according to RTP, was initially evacuated aboard the "Resilient Warrior" tanker, which had been diverted on site to participate in rescue operations, before being transported to the island. of Faial aboard a military helicopter, the air force said.
"There are no sources of pollution so far", specified the Portuguese navy.