[ad_1]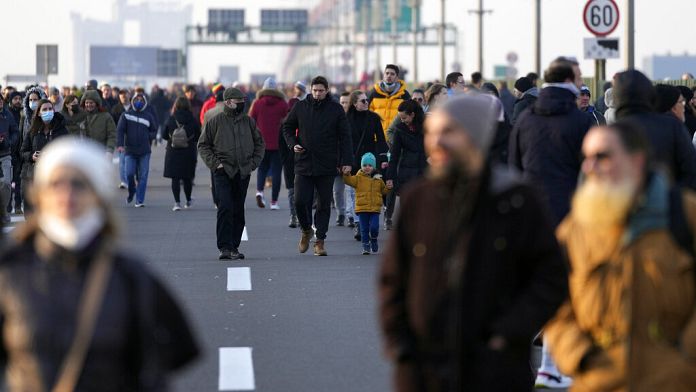 Tens of thousands of protesters blocked major roads in Serbia on Saturday. They were demonstrating against the government-backed plan to allow Anglo-Australian mining giant Rio Tinto to extract lithium in a region in the west of the country.
¨ Nearly 20,000 people would risk being evicted and the consequences on the environment could be irreversible.
Many are also concerned that the government recently changed the expropriation laws to make it easier to open this mine. And it is now Aleksandar Vucic, the Serbian president, who is in the crosshairs of the demonstrators.
"It doesn't matter who is in power, it doesn't matter who makes the decision, only the environment matters and we really don't want that. It's a civil uprising against what's going on.", specifies a young man.
"Don't build Rio Tinto, don't poison my children and grandchildren. Who are we going to leave this country to?", pretends to wonder a woman present at the demonstration.
Extracting lithium, a metal needed to make batteries, requires large amounts of sulfuric acid, which can generate arsenic.
Rio Tinto nevertheless ensures that its site will be perfectly respectful of the environment and says it wants to invest more than 2 billion euros in the project.
It was the second national demonstration called for by environmental groups and with the support of several opposition parties.
A few months before the probable national elections, they intend to use this mobilization against the current power.
"Everything that is happening here in Serbia is against the law, and especially what the authorities are doing. So the blockade of the highways is as illegal as the law on expropriation, on the seizure of private property. would be crazy enough to block highways all over Serbia if there was a law. This is all due to the absolute anarchy this government is implementing. ", explains Aleksandar Jovanovic, organizer of the event.
"We have come to stand up, together with the citizens, against everything that is happening in our country. I think the reasons for this protest are dissatisfaction with the way Serbia is developing and the way the regime in Serbia is developing. Serbian Progressive Party behaves and governs ", analysis Dobrida Veselinovic, member of the opposition.
[ad_2]

Source link