News
Serbia: rally in Belgrade in support of the war in Ukraine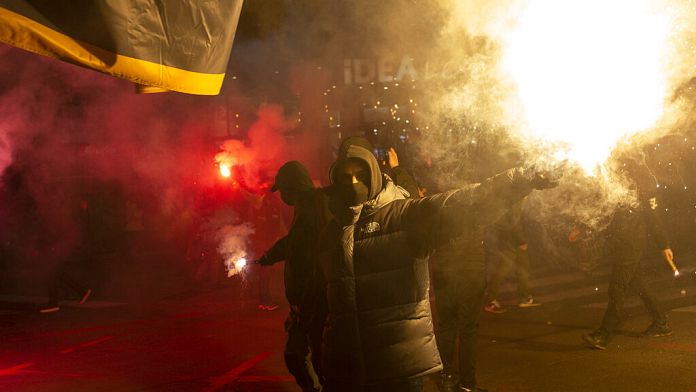 A thousand people gathered Friday evening in Belgrade to express their support for Vladimir Putin and Russia's invasion of Ukraine as well as their hostility towards NATO.
The demonstrators, waving Russian flags, chanted "Serbs-Russians, brothers forever" as well as anti-NATO slogans.
"Ukraine is being liberated from neo-Nazis. The Russians, our brothers, liberate the country, and hopefully the world", told AFP Nikola Babica 22-year-old security guard.
While the invasion of Ukraine by Russian military forces has drawn unanimous condemnation in Europe, public Serbian media have in recent days defended President Putin's actions.
Serbian President Aleksandar Vucic officially condemned the invasion of Ukraine at the United Nations while refusing to impose sanctions on Moscow.
Russia controls Serbia's gas and oil industry and also has a right of veto at the UN Security Council which has prevented the formal recognition of Kosovo, a former Serbian province.
Kosovo declared independence in 2008 after Belgrade withdrew from the territory following a 1999 NATO airstrike campaign on Serbia – the Alliance's first intervention against a sovereign state – which put an end to the conflict between Albanian separatists and Serbian forces.
Aleksandar Vucic has juggled successfully for years between East and West, winning substantial financial support from the European Union while concluding important economic agreements with China.
Critics of the Serbian president and rights groups accuse Mr.Vucic growing grip on the country's media and democratic institutions, in a manner similar to the processes seen in Moscow.