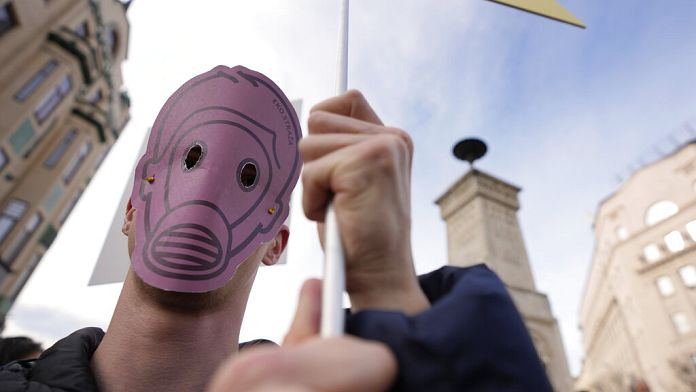 The weekend was held to the rhythm of protests in Serbia. Environmental issues, mainly, were at the heart of the protest.
Thousands of people took to the streets of the country, especially in Belgrade, to denounce the quality of the air in the Serbian capital; while the authorities are accused of having manipulated data to lower pollution thresholds considered dangerous.
"The report from the European Environment Agency indicates that the pollution-related death rate in Serbia is the highest in Europe. Belgrade is the most polluted capital in Europe. At least 15 cities in Serbia are more polluted than the most polluted in the EU. It was the Serbian government that brought us to this situation. 15,000 people have died from pollution. This means 50 deaths per day, more than for COVID-19. And we don't say nothing and do nothing about it", said Bojan Simisic, activist of the NGO Eco Guard.
On Saturday, hundreds of environmental demonstrators had blocked roads in several towns in Serbia to protest against a project by Anglo-Australian mining giant Rio Tinto.
Significant deposits of lithium, essential for the manufacture of batteries for electric cars, are in eastern Serbia, around the town of Loznica, where the company has started buying land, but is still waiting for the green light from the State to open the mines.
– "Serbia is not for sale" –
In Belgrade, demonstrators blocked the capital's main bridge, Gazela, and a large intersection for an hour after clashes with forces that ultimately let them take possession of the premises, an AFP journalist reported.
"I'm here because I don't want them to sell the land of my ancestors. Serbia is not for sale31-year-old musician, Milan Milosavljevic, told AFP.
Environmental organizations, which denounce the Rio Tinto project, decided to demonstrate after the adoption this week by the Serbian Parliament of amendments to the laws on the referendum and on expropriation.
These organizations claim that the legislation has been changed to accommodate the investor, which the government has denied.
Rio Tinto discovered in 2006 the lithium reserves in the Loznica region.
The company intends to invest 2.4 billion dollars (2.12 billion euros) in this project, declared at the end of October Vesna Prodanovic, director of Rio Sava, sister company of Rio Tinto in Serbia.
According to a financial plan presented recently by the company, the exploitation of lithium could bring annual profit to Serbia "direct"of 627 million dollars (553 million euros) and generate in addition 885 million dollars (781 million euros) of profits in the connected sectors.
"Nothing will happen without the decision of the people", said the Serbian president on Wednesday Aleksandar Vucic, ensuring that the Serbian government should first analyze the project before organizing a referendum.
The new legislation no longer provides for the necessary participation of 50% of voters for the validity of the result of a referendum.