News
Serbia-Kosovo: "if they start to be violent, protect yourself and we will support you" (Vucic)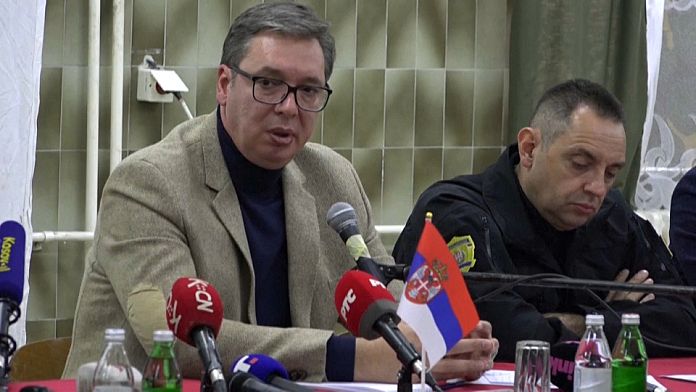 Serbian President Aleksandar Vucic met with Kosovo Serbs after the violent clashes that took place on Wednesday in the city of Mitrovica.
Clashes erupted after a major anti-smuggling operation by Kosovo police in 28 locations, including Pristina, Pec and Mitrovica. In the latter, civilians from the Serbian minority waged a guerrilla war against the police, believing themselves to be the "real target. Aleksandar Vucic supported them :
"Do not react to nonviolence. But if they start to be violent… if they start violence… protect your people and we will support you."
Several civilians and police officers were injured in Mitrovica. Kosovar forces had to withdraw.
Pristina insists that this was an ordinary police operation and that none of those arrested were Serbian, while the prosecutor and the judge in the case are.
Serbian Prime Minister Ana Brnabic denounced "the crazy politics of Pristina" and called on the international community, Nato and Kfor to respond.
"The violent incidents in northern Kosovo must end immediately," Josep Borrell, the head of European diplomacy, responded on Twitter. "Unilateral and uncoordinated actions that endanger stability are unacceptable," he said, adding that the EU was "in touch" with Belgrade and Pristina.
The tension between Serbia and Kosovo is at an all-time high. Three weeks ago, a dispute over the license plates of vehicles moving from one country to another triggered a blockade that lasted until early October.
Serbia has never accepted the independence declared in 2008 by its former province, which is recognized by most Western countries, and its relations with Kosovo, which is overwhelmingly Albanian, remain complicated.
Source link