[ad_1]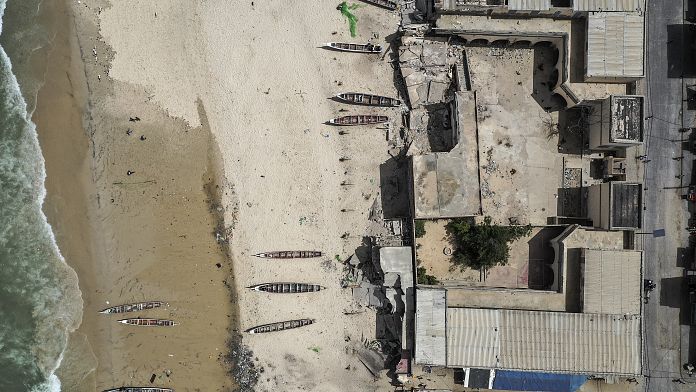 Coastal erosion, gale, marine and river flooding, Saint-Louis in Senegal is considered one of the African cities "most exposed to rising oceans. Faced with the onslaught of the Atlantic, a huge dike is being built.
A glimmer of hope for the locals. "For several years, we have faced a great difficulty, which is the advance of the sea. Since the construction started, we are more optimistic", reacts an inhabitant of the language of Barbarism.
Erosion is increasing and flooding is more frequent and more severe in the city at the mouth of the Senegal River. In recent years, hundreds of residents of the fishermen's quarter have already seen their homes ravaged by water.
Some have been relocated about ten kilometres inland, in refugee-like camps. "Life here is an ordeal. Our new accommodations are extremely hot and we live there with our whole family, because we have no choice. We are forced to stay here because our house was totally destroyed by the sea", testifies Thiané Fall.
Behind the levee, which is expected to measure 3.6 km, a strip of land will be cleared and other houses razed. In total, 10,000 to 15,000 inhabitants will have to be displaced.
Alioune Badara Diop, deputy mayor of Saint-Louis, is one of the "fathers" of the project. "The objective was to gain at least twenty meters on the coastline of the sea and then free 20 meters from the protective wall to have at the end 4 meters that will be reforested and left to the population for recreational activities but that will not be inhabited", he explains.
The authorities know that the levee is only an emergency and short-term solution. Sustainable solutions are being studied and will take more time.
[ad_2]

Source link