News
Sea Shepherd reveals photos of thousands of dead fish off La Rochelle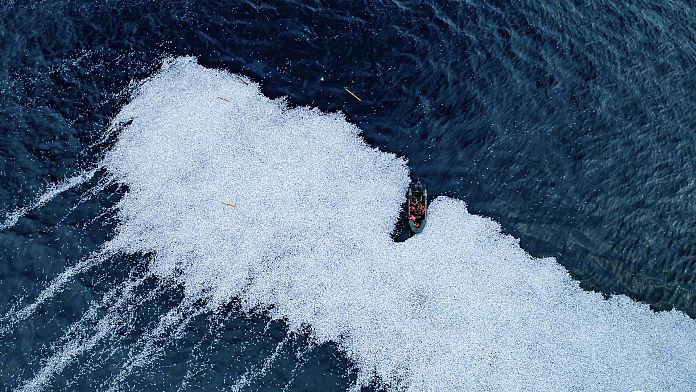 Sea Shepherd has unveiled chilling images taken in the Bay of Biscay. The NGO which campaigns for the end of industrial fishing, published this Thursday photos of thousands of dead fish 300 kilometers off La Rochelle, in the west of France.
According to Sea Shepherd France, "more than 100,000 fish were thrown back into the sea 300 km from La Rochelle", by the Margiris, one of the largest fishing vessels in the world, 143 m long. This boat which is managed by a Dutch company is prohibited in Australian waters.
"After verification, the thousands of dead fish are blue whiting, usually intended to make surimi" specified the NGO, which denounces "regular looting".
A fishing accident?
According to the European Association of Pelagic Freezer Trawlers (PFA), it was an accident.
"Rarely, the trawl containing blue whiting, a species subject to quotas, accidentally broke, thus involuntarily releasing fish into the sea" specifies PFA in a press release.
However, according to the president of Sea Shepherd France, Lamya Essemlali, these are "bycatch", i.e. fish that were not targeted by fishermen. In theory, they are forbidden to reject them, "it encumbers them and if these fish (…) are not targeted by the ship, then they reject them", explains Lamya Essemlali.
The French ministry will investigate
The Minister of the Sea Annick Girardin announced on Friday that she had requested the opening of an administrative investigation after the discovery of tens of thousands of dead fish.
"I asked for an administrative investigation", told the press Ms. Girardin in Saint-Jean-de-Luz (Pyrénées-Atlantiques), where she met professionals in the fishing industry.
"The ship identified itself at the end of the race. The shipowner recognized an accident on board, it was a net that dropped", added Ms. Girardin, according to whom "the accident was declared in the logbook". "Dead fish will be removed from the boat's quota", she continued.
If the fishing of hake is authorized with quotas, European regulations provide that it is forbidden to throw back into the sea dead fish, caught by mistake. They must be brought back to port to be declared.