News
School, a new start for Ukrainian refugee children in Hungary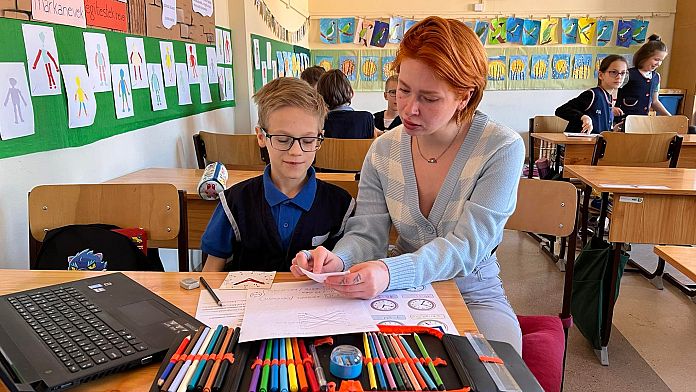 Since the start of the war, more than 500,000 Ukrainian refugees have crossed the border, a third of them minors, but only 1,300 of them are currently in the Hungarian school system, the rest are "abandoned"
In Budapest, a school currently welcomes 25 Ukrainian pupils aged 3 to 17. Thanks to the mobilization of teachers and parents, all refugee children here receive school materials, accommodation and three meals a day.
"We don't just teach children, we save lives", confides Rita Rubovszky who teaches at the Catholic school center of Patrona Hungariae.
But, it is not always easy to overcome the language barrier. Bilingual pupils arriving from neighboring Transcarpathia help their classmates by translating.
"I try to translate for them as much as possible to help them, because it's a little more difficult for them. But they are making a lot of progress, that's very good", says little Dorka who is a Ukrainian of Hungarian origin.
The young Jana is also one of the students who were able to find the school benches, she fled the devastated city of Kharkiv alone, and she has no news of her family.
"My father was fighting in Kharkiv. But I haven't heard from him for 2 or 3 weeks," she confides.
Little Dimitri was luckier, because he was able to start a new life with his parents in Hungary.
"The meals are really delicious and I made a lot of friends, I'm happy to be at school", said the young boy.
There are also children who need more special attention. Like Danuta who dances and sings with her classmates in this kindergarten. Her grandmother Marika is happy with the welcome given to her granddaughter with Down syndrome.
"At home, the kindergartens had been closed and my little girl did not receive special care. Here, she has speech therapy and dance lessons, which is great progress for us", explains the grandmother.