[ad_1]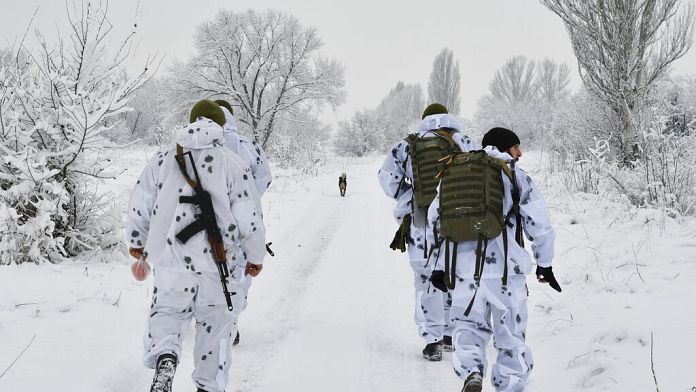 Training to defend their country in the event of a Russian invasion is the task of some fifty Ukrainian civilians in an abandoned factory just outside Kiev. The scenario was as follows: dummy Russian troops ambush Ukrainian army reservists. Kalashnikovs fire and dummy smoke grenades explode around them.
In the ranks of these reservists, architects, researchers, salespeople like Maryana Zhyglo who recalls that Ukraine has already been the victim of a Russian invasion:
"I think there might be another cycle in this aggression. So we are training more intensively now. But I hope we will not use these skills."
"I live with the idea that until we give Russia a good punch, it won't leave us alone.", explains Denys Semyrog-Orlyk, junior reserve sergeant. "It's been 8 years. They always "finish off" the weak. If we don't resist, this invasion will continue for a long time. "
In Russia, Moscow has just announced that 10,000 Russian soldiers had returned to their bases after a month of training in the south, near the Ukrainian border. The United States, NATO and Ukraine denounce the deployment of tens of thousands of Russian troops along this border.
Russian President Vladimir Putin denies planning an invasion, but wants a guarantee that NATO will not expand further east while Ukraine wants to join.
In Russian public opinion, little seems in favor of a big war with Kiev. According to Andrei Kolesnikov of the Carnegie Center, the Russians are not prepared to make the sacrifices a great war demands. Research has shown that the biggest worries of Russians today are about health and the economy, and the threat of another world war.
"War is a costly and senseless waste of time. There will be more and more young people supporting peace in the future. The conflict will pass, I am sure." explains Diana Shilova, resident of Saint Petersburg.
About half of Russians believe that the worsening situation with Ukraine is caused by the United States and NATO. Only 4% of them think that Moscow is responsible.
According to the White House, negotiation meetings are scheduled for January 10 between Washington and Moscow, then for January 12 between Russia and NATO and January 13 with the OSCE.
[ad_2]

Source link