News
Russian invasion: Kiev on a war footing, the militiamen organize themselves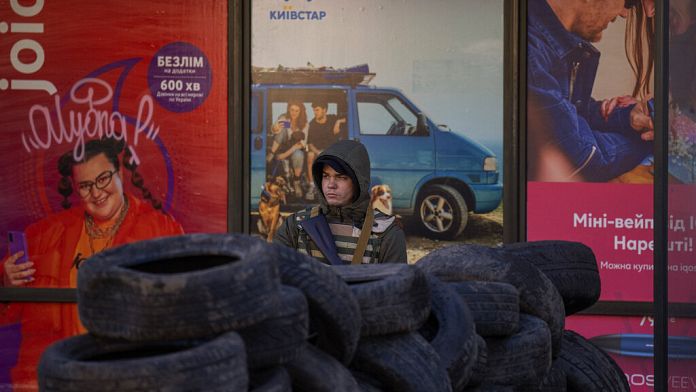 While the impressive column of Russian tanks in the direction of Kiev is getting dangerously close to the Ukrainian capital, our special correspondent Valérie Gauriat crisscrossed the arteries of a city that is hiding and preparing for the worst.
At the main intersections, crossing points have been set up. The accesses are locked by barricades in the hands of seasoned soldiers, or freshly enlisted militiamen, all are ready to defend their city, their country, their freedom.
During her meetings, our colleague came across a Ukrainian deputy in the street, Kalashnikov in hand. Oleksiy Goncharenko did not hesitate to take on the role of resistant, at the foot of Parliament.
"The Ukrainian parliament is not only a place where you can vote. You must also defend it with a gun in your hands"explains the young parliamentarian. "If the Russians enter the city, I will do my best. Probably I will not overdo it. But there are many of us, there are tens of thousands of us. I am sure that if they enter here, it will be the 'hell for them'.
At the entrance to the city, our special correspondent surprised a militiaman painting a message on a building. Its unequivocal content is aimed at Russian soldiers.
"F*** You"is it written there.
A "wink" echoing the last words allegedly spoken by Ukrainian border guards entrenched in a garrison on a small island in the Sea of ​​Azov. At the very beginning of the Russian invasion, they would have refused to surrender. The Russian navy would have bombed them. Events contradicted by the Russian authorities.
And even if this story did not happen as the rumor spread on social networks, this militiaman claims:
"Right now this is exactly what all Ukrainians say to Russians: 'f*** you', leave us alone. We are unbeatable"insists the militiaman.
This fighter is convinced of it: with these thousands of Ukrainian resistance fighters spread over the whole territory, the Russians must expect heavy losses. "Ukraine is the best country in the world. Glory to Ukraine!", he says.