News
Russian gas: Berlin and Paris are "preparing" for a possible stoppage of deliveries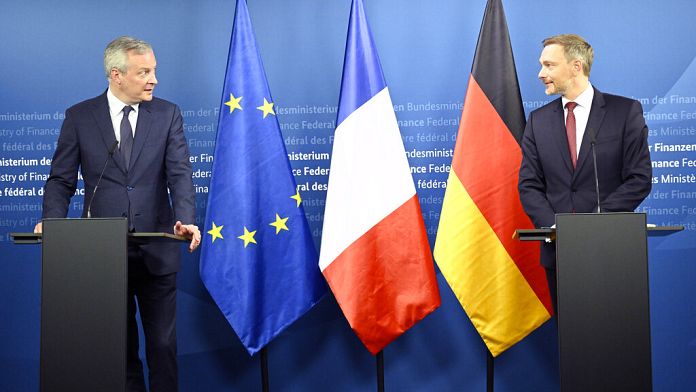 Germany and France are "preparing" for a possible stoppage of Russian gas imports, the governments of the two countries said on Thursday, which also reiterated their opposition to any payment in rubles for deliveries.
"There may be a situation in which tomorrow (…) there will be no more Russian gas" and "it is up to us to prepare these scenarios there and we are preparing them", declared in Berlin the French minister of Economy and Finance Bruno Le Maire during a press conference with German Economy Minister Robert Habeck.
Berlin and Paris have at the same time reiterated their refusal to pay in rubles for deliveries of Russian gas, as requested by Vladimir Putin.
"It is written in the contracts that the payments are made in euros and sometimes in dollars," German Chancellor Olaf Scholz explained at a separate press conference also organized on Thursday in Berlin.
"I made it clear to the Russian president that it would stay that way" and "companies want to be able to pay in euros and will do so," he added.
"The contracts provide for a currency in which they are executed and therefore the contracts must be executed in the currency provided", hammered for his part Bruno Le Maire.
"Contracts are contracts," he added.
Rubles
Vladimir Putin announced last week that Russia would no longer accept payments in dollars or euros for gas deliveries to the EU. The measure officially comes into force this Friday, April 1.
The Russian president explained that his decision was a reaction to the freezing of Russian assets decided by the West to sanction Moscow after the invasion of Ukraine.
In a telephone conversation with Olaf Scholz on Wednesday, Mr Putin assured the Chancellor that payments "will continue to be in euros", according to comments reported by the German government.
The funds will be "transferred as usual to the Gazprom Bank, which is not subject to sanctions", and will take care of the conversion into rubles, Berlin detailed.
Chancellor Olaf Scholz, however, said he did not "accept this procedure" and "requested information in writing to better understand".
The Europeans were however reassured by this conversation: Italian Prime Minister Mario Draghi thus assured Thursday morning that Russian gas deliveries to the EU were "not in danger".
But a few hours later, the Russian president reiterated his threats, assuring that his country would no longer deliver gas to "unfriendly" countries refusing to pay in rubles from Friday April 1.
He added that in the event of refusal, "the current contracts would be stopped".
Before the war, the European Union imported 40% of its gas from Russia. Germany was particularly dependent, with a proportion of 55%.