News
Russian forces tighten the noose a little more on Kyiv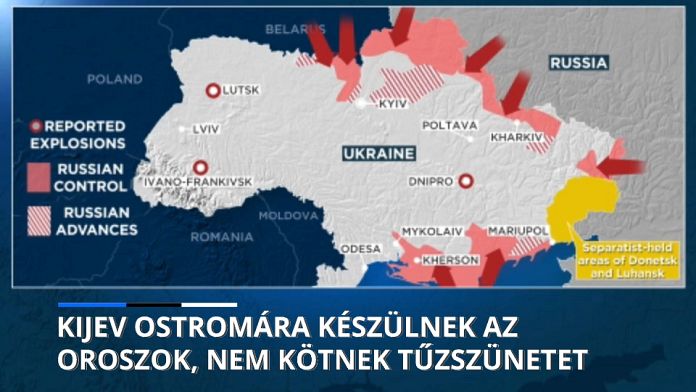 Russian forces tightened the noose on Kyiv on Saturday and continued the bombardments of other Ukrainian cities without respite..
Local media reported anti-bombing warning sirens across Ukraine, while in a new video posted on Facebook, Volodymyr Zelensky asserted that the Russian armed forces suffered a significant number of setbacks.
"Our armed forces are doing everything to deprive the enemy of any desire to continue the war against Ukraine. The losses of the Russian forces on the 17th day of the conflict are enormous. So much so that we can say with certainty that this is the biggest blow to the Russian military in decades. Nowhere else has she lost more than in those 17 days. Since the start of the invasion, 31 battle groups of enemy battalions have been rendered combat incapacitated. The Russian military does not surrender one by one, but in whole groups", assured the Ukrainian president.
In parallel, images released by the Russian Ministry of Defense show combat helicopters pounding fortifications and armored vehicles of the Ukrainian armed forces.
In the port city of Mykolaiv, in the South, the bombardments hardly ceased during the night. Several hospitals were affected. Besieged for days, Mariupol is deprived of water, gas, electricity, communications. Friday, for the first time, the city in the center of the country, Dniprowas hit by strikes.
"On the morning of March 12, a high-precision long-range weapon attacked Ukraine's military infrastructure. The military airfield Vasylkov and the main electronic intelligence center of the Ukrainian Armed Forces in Brovary have been decommissioned", said Major General Igor Konashenkovspokesperson for the Russian Defense Ministry.
For now, Kyiv did not comment on the loss of these military installations. Finally, on the diplomatic front, the French President Emmanuel Macron and the German Chancellor Olaf Scholz spoke again on Saturday with the Russian President Vladimir Poutine the day after the Versailles summit.