News
Russia: Vladimir Putin unfolds his propaganda during a patriotic high mass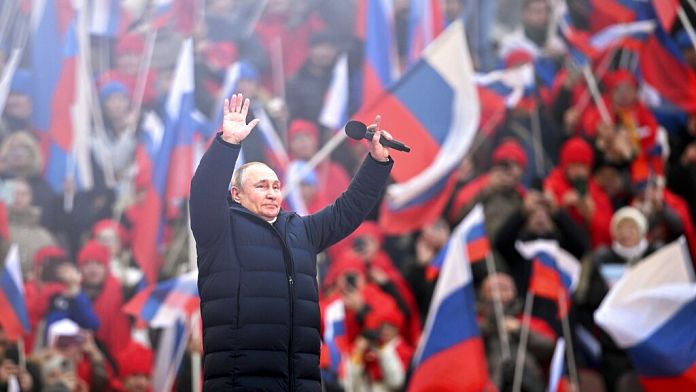 The Olympic stadium in Moscow, packed and invaded by flags this Friday: an ultra-patriotic high mass organized in the midst of the war against Ukraine. The Kremlin thus celebrated the eighth anniversary of the annexation of Crimea.
High point of the show, the speech of the head of the Kremlin. Vladimir Putin repeated the reasons why he ordered what he calls a "special military operation" in Ukraine.
"Saving people from genocide"
Using well-rehearsed rhetoric, he recalled the need to "denazify" Ukraine, accused of perpetrating genocide against Russian-speaking populations.
"To save people from this suffering, from this genocide, this is the main reason, the main motive and the goal of the military operation", he shouted.
In his speech, he celebrated the "return" of Crimea to Russia in 2014 and praised the heroism of the Russian forces engaged in Ukraine. "There's no greater love than laying down your life for your friends", he quoted in a reference to the Bible.
Putin's speech interrupted on TV
Over 200,000 people attended this grand gala, inside and outside the Luzhniki Stadium. Political personalities, sportsmen and artists took to the stage with messages of allegiance to Vladimir Putin.
There remains a quack in this well-oiled event, the television broadcast of the speech of the master of the Kremlin was unexpectedly interrupted. The broadcast of the intervention resumed on a delayed basis fifteen minutes later. "A technical breakdown" was mentioned by the spokesperson for the Russian presidency.