News
Russia / Ukraine war: a strike on a military barracks kills dozens in Mikolaiv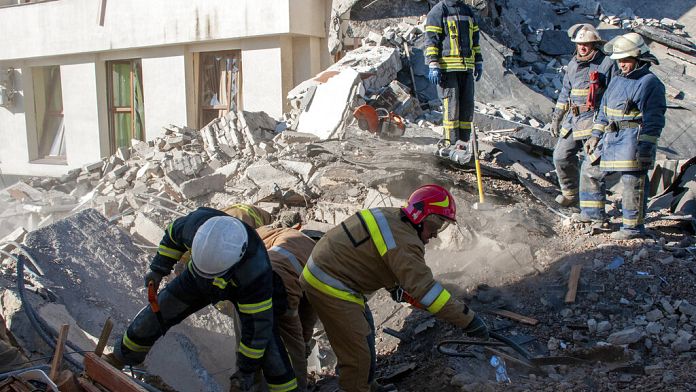 Update on Russia's invasion of Ukraine. Images released this Saturday by the Russian Ministry of Defense were presented by the latter as airstrikes on Ukrainian army vehicles.
Moscow also said it used "Kinjal" hypersonic missiles on Friday to destroy an underground weapons warehouse in western Ukraine..
Russia had never previously reported the use of this ballistic missile in the two conflicts where it is belligerent, Ukraine and Syria.
This type of missiles, very maneuverable, defies all anti-aircraft defense systems, according to Moscow.
Devastated Ukrainian military site
Dozens of people were killed in a Friday strike on a military barracks in southern Ukraine, Mykolaivwitnesses told AFP on Saturday.
"No less than 200 soldiers slept in the barracks", according to Maxime, a 22-year-old soldier interviewed on the spot. "At least 50 bodies have been extracted, but it is unclear how many remain under the rubble", continues the young soldier. Evguéniï, another soldier on the spot, estimates that the strikes could have made 100 dead.
The site in northern Mykolaiv was completely devastated after being hit by six rockets on Friday morning.
Zelensky demands serious talks
Ukrainian President Volodymyr Zelensky said on Saturday that it was time for Moscow to agree to "reunite" for "to discuss"seriously peace in order to avoid consequences for Russia "over several generations".
"Negotiations on peace and security for Ukraine are Russia's only chance to minimize the damage caused by its own mistakes", Mr. Zelensky said in a video posted on Facebook, filmed at night in a deserted street.
"It's time to get together. It's time to discuss. It's time to restore territorial integrity and justice for Ukraine", pleaded the head of state.
Moscow claims to be in Mariupol
The Russian army claims to have succeeded in penetrating into besieged Mariupol and fighting in the city center alongside troops of the "Republic" Donetsk separatist.
Taking Mariupol would be an important turning point in the war and would allow Russia to ensure territorial continuity between its forces coming from annexed Crimea (South) and the troops from Donbass (East).
Star Dancers for Ukraine
Of the Russia at theArgentinapassing through the Japanthe France Where Cubainternational ballet stars offer Saturday at London a big humanitarian gala for Ukraine, in order to raise funds and send "a message of unity"against this war"horrible".
"As artists, we have talent and we have to use it to say what we believe in. Art has a voice and that's the voice we use", explained to AFP the Ukrainian Ivan Putrov, coordinator of the gala and former principal dancer of the Royal Ballet of London.
Telegram and WhatsApp escape blocking
WhatsApp and Telegram messengers have been spared, for the moment, from blockages by the Russian authorities which have hit their competitors, but remain suspendedaccording to experts.
Since the start of the invasion of Ukraine, Facebook, Twitter and Instagram have been successively deactivated in Russia, while TikTok has, on its own, suspended the ability to upload new content.
Gas supply: Berlin worried
Germany, very dependent on Russia for its supply of hydrocarbons, risks running out of gas next winter, said Saturday the Minister of the Economy who is stepping up steps to avoid this scenario.
The gas supply"is not yet completely guaranteed", said Robert Habeck in an interview with Deutschlandfunk radio.
"People keep fleeing"
More than 3.3 million refugees have now fled Ukraine since the Russian invasion, the United Nations said on Saturdaywhile nearly 6.5 million people are believed to be internally displaced.
UNHCR, the UN refugee agency, said 3,328,692 Ukrainians have left the country since the war began on February 24. In addition 58,030 others have joined the paths of exodus since its previous report on Friday.
"People keep fleeing because they are afraid of bombs, airstrikes and indiscriminate destruction"said UNHCR chief Filippo Grandi."Help is vital but cannot end fear. Only stopping the war can do that", he commented.
Around 90% of those who fled are women and children. Ukrainian men aged 18 to 60 can indeed be called up and must remain in their country.
Humanitarian corridors to evacuate civilians
Ukraine and Russia agree to open 10 humanitarian corridors to evacuate civilians. This includes a corridor in the beleaguered port city of Mariupolseveral in the regions of Kyiv and of Lugansk.