News
Russia could attack Ukraine before the end of the Olympics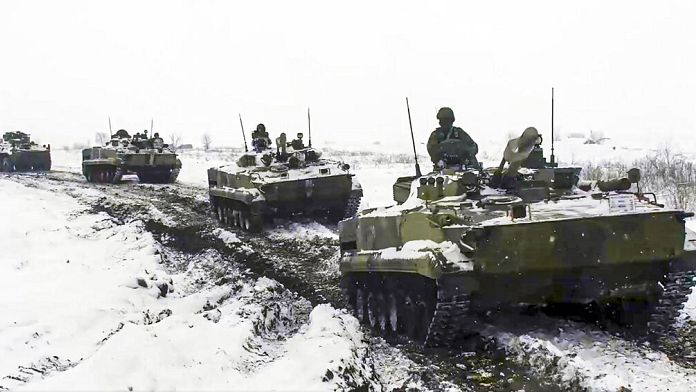 An invasion at any time. The United States are convinced that Moscow will not wait until the end of the Olympic Games to attack Ukraine. Anthony Blinken, the American Secretary of State ensures that the Kremlin continues to amass men on the Ukrainian border. Westerners say they are ready for all scenarios with an unprecedented response in the event of war.
"We are in the window where an invasion could start at any time, if Vladimir Putin decides to order it, I will not comment on the details of our information. But I want to be clear: it could start during the Olympics, despite many speculations that it would not take place until after the Games" Explain Jake Sullivan, White House National Security Advisor.
According to him, such an offensive is a "very, very real possibility", but American intelligence does not know whether the Russian president "has made a final decision" or not.
In the wake of these announcements, Wall Street fell sharply, while oil prices soared.
Russian military maneuvers
In parallel with this observation, Russia announced new military maneuvers on the Ukrainian border.
While it has already been carrying out major exercises in Belarus, also neighboring Ukraine, since Thursday, Moscow announced on Friday other training for "combat missions" in the Russian border region of Rostov, with hundreds of soldiers. and tanks.
Leaving Ukraine
A sign that war could be approaching, the European Union, the United Kingdom and Norway are in turn advising their nationals to leave Ukraine. Washington announces the dispatch of 3,000 additional American soldiers to Poland. They will join some 2,000 soldiers from the 82nd Division, including 1,700 in Poland and 300 in Germany, where the command of American forces in Europe is based.
They are deployed to reassure NATO allies, deter potential attacks on NATO's eastern flank, train host nation forces and assist in a wide range of tasks.
They are added to the approximately 80,000 American soldiers already stationed in Europe, either on a permanent basis or on a rotating basis.
prevent a war
Despite everything, Westerners still want to believe in diplomacy, the French president Emmanuel Macron and his Russian counterpart Vladimir Poutine are due to meet this Saturday. The White House said that Joe Biden also considered calling Vladimir Putin to try to dissuade him from invading Ukraine.
Western leaders met on Friday afternoon. "The allies are determined to jointly take swift and drastic sanctions against Russia in the event of further violations of the territorial integrity and sovereignty of Ukraine", tweeted the spokesperson for the German Chancellor, after this meeting. "All diplomatic efforts are aimed at persuading Moscow to move towards de-escalation. The goal is to prevent a war in Europe".
Westerners who show their support for the sovereignty and territorial integrity of Ukraine.
Drastic penalties
Ursula von der Leyen reaffirmed that "all options were on the table and that the sanctions would concern the financial and energy sectors, as well as exports of high-tech products", specified its services.
The White House has praised the "remarkable" unity of Westerners in the face of what they consider to be the most dangerous moment for Europe since the end of the Cold War thirty years ago.
The Americans, who shared the analyzes of their intelligence services with their allies, sketched out a dramatic scenario in the event of a Russian offensive.
This "would probably start with aerial bombardments and missile fire which could obviously kill civilians", Jake Sullivan told the press. It could also include "a rapid assault" on Kiev.