News
Roberto Toledo, fourth journalist murdered in Mexico since the beginning of the year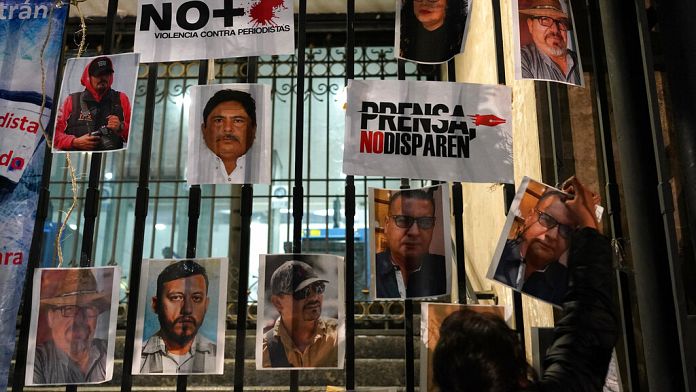 He's the director of the local news site Monitor Michoacan for whom worked Roberto Toledo as a cameraman and video editor, who announced his death on Monday.
According to Armando Linares who points out that his media had received threats for his work investigating government corruption in Mexico, three assailants allegedly shot dead Roberto Toledo in the town of Zitacuaro.
"For denouncing corrupt administrations, civil servants and politicians, this led today to the death of one of our colleagues", said Armando Linares. "People approached him and shot him".
"The Monitor Michoacán team has suffered death threats for weeks and months. We know where it comes from", he added without, however, naming precisely the people he thinks are responsible.
Roberto Toledo is the fourth journalist murdered since the beginning of the year in this country.
Mexico in shock after several murders of journalists
On January 25, several hundred people gathered in Mexico in front of the headquarters of the Ministry of the Interior, under the slogan "We demand justice". Photos of murdered journalists were then projected on the walls of the building.
Other gatherings of this type had also been convened in about forty cities across the country, including Tijuana, under the slogan: "Neither silence nor oblivion", and all followed the mid-January assassination of two journalists in Tijuana in less than a week.
Lourdes Maldonado Lopez was killed on January 23 by "firearm while in a vehicle", the Baja California state attorney general's office said in a statement. She "worked as a journalist", added the prosecution, announcing the opening of an investigation.
She worked for Primer System of Noticias (PSN), a television channel belonging to Jaime Bonilla, governor of the state of Baja California from 2019 to the end of 2021, and close to the Mexican president Andres Manuel Lopez Obrador.
The victim had won a lawsuit a few days ago against PSN, which she had been suing for nine years for unfair dismissal.
She had asked President Lopez Obrador in March 2019, "support, aid and justice" claiming to have "fear for (her) life", according to a video reposted on social networks at the announcement of his assassination.
President Lopez Obrador called "lamentable" the murder of the journalist. "We need to do a thorough investigation", he added during his almost daily press conference.
He said he stayed in touch with the journalist after her intervention in early 2019.
"You cannot automatically link a labor law complaint to a crime", he warned.
"Let's not forget, that's all I ask, that we are coming out of a period of decadence, and that the violence began to manifest itself 20 or 30 years ago", concluded the left-wing president invested at the end of 2018 by promising to break with the neo-liberalism of his predecessors whom he accuses of all evils (corruption, inequalities, violence).
Another journalist, the photoreporter Margarito Martinez, had been killed on January 17 in the same city. He collaborated with the weekly Zeta, the daily Jornada and foreign journalists reporting from the region. The prosecution said it was not ruling out any motive in its investigation.
Mexico, one of the most dangerous countries in the world for journalists
At least seven journalists were killed in 2021 in Mexico, according to an AFP count, which tries each time to establish whether the victim was still active, and whether he was killed because of his journalistic work. .
This seems to be the case in the state of Veracruz (southeast), where a man presented as a journalist, JoseLuis Gamboa, was found stabbed to death on January 10, multiple sources said on Monday. "Gamboa had denounced and strongly criticized the local authorities for their relationship with organized crime", according to the NGO Reporters Without Borders, which ranks Mexico 143rd (out of 180) in its 2021 World Press Freedom Index.
Mexico is considered one of the most dangerous countries in the world for journalists, exposed to reprisals from drug cartels operating in several of the country's 32 states.
A hundred journalists have been killed since 2000, according to figures from the Commission on Human Rights.