News
Rising energy prices: what responses from European countries?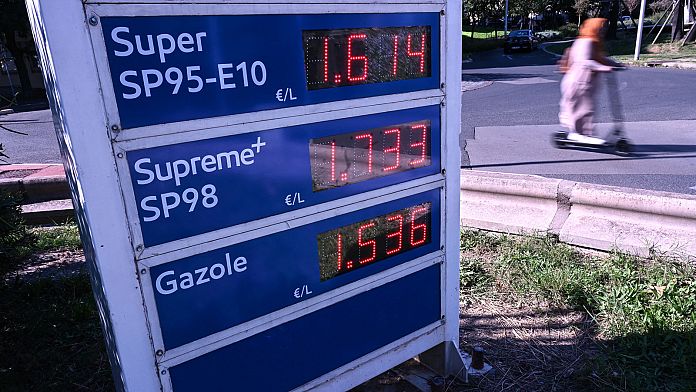 After the health crisis, an energy crisis is emerging. Boosted by the economic recovery, prices are soaring. Gas was the first to soar due to strong global demand". It has driven in its wake electricity and fuels. Prices have reached, in some cases, highs never seen before. Faced with this situation, European governments are implementing measures (tax cuts, "energy checks", etc.) to try to limit the impact on consumers' bills as winter approaches.
Fuel and energy "checks" in France
This Monday, the prices of road fuels sold in France continued to rise. Diesel has reached new all-time records with a liter sold on average 1,5583 euro last week, against 1,5354 euro the previous week, according to official figures from the Ministry of Ecological Transition.
The SP 95 gasoline for its part reached 1.6567 euro per liter on average, according to this same score. Its price is also at the highest in almost 10 years, but without beating the record of 2012 (1.6664 euro).
To offset soaring prices, the government does not appear to be moving towards lower fuel taxes. Rather, it seems to favor the payment of a "fuel check", on the model of the one intended to compensate for the increase in the price of gas (and which the executive plans to pay next December). Six million households will receive exceptional aid of 100 euros.
In addition, French Prime Minister Jean Castex announced that gas prices will be blocked until April. In addition, the next increase in electricity prices, scheduled for February 2022, will be limited to 4% thanks to a lower electricity tax.
The French Minister of the Economy, Bruno Le Maire, indicated that these measures will cost the public finances 5.6 billion euros.
Tax reduction in Germany
As in France, prices at the pump are soaring in Germany. This Sunday, for example, a liter of diesel cost an average of 1.555 euros, a penny more than during the previous record on August 26, 2012. In addition to the rising price of a barrel, the price of diesel is driven by demand for fuel oil, a demand traditionally marked at the beginning of the cold season. Without reaching its all-time high, the price of gasoline is also high higher.
"The Minister made it clear that he was watching fuel prices with concern", said a spokeswoman for the Ministry of Transport at a press conference. Measures for"react quickly"if prices continue to rise, especially beyond 2 euros, must be foreseen, she added.
If for the moment the German government has therefore not planned anything to combat the rise in fuels, it has instead taken a measure to combat the rise in electricity.
Thus, Berlin will lower a tax on electricity consumption on 1 January, in order to alleviate household bills. The renewable energy charge (EEG) will fall by almost half to its "lowest level in ten years", according to the minister.
Targeted aid in the UK
As on the continent, fuels are hitting record highs in the UK, with the super 95 at £1.40 (€1.65) and diesel at £1.43 (€1.69) on Friday 15 October. While there is currently no plan to limit the rise in fuel prices, London has already taken action last September, when the price of electricity (regulated) had seen an increase of 12%.
The British government thus announced on 30 September a fund of 500 million pounds (EUR 591 million) for municipalities for targeted aid to help the most vulnerable to pay their energy bills, especially heating, but also to cover food and clothing expenses.
Italy: exemptions for the precarious
Italy announced last September an envelope of three billion euros, with the elimination on the bill of what is called "infrastructure costs" for gas in the last quarter.
Some 2.6 million people already benefiting from a "social bonus" will not suffer from rising gas prices. For others, VAT will be lowered to 5%. The envelope will also exempt the most precarious from the increase on their electricity bill.
Spain: limitation of profits
Spain, which is more dependent on gas for its electricity production than its European neighbours such as France, has acted since July with a temporary reduction in VAT on electricity decided by the left-wing government of Pedro Sánchez to bring down the bills of the most modest consumers.
But this has already been partly absorbed by soaring prices, and the government introduced a second round of measures in mid-September, including a temporary reduction in the special electricity tax and a limitation on the extraordinary profits that power companies earn from high prices.
In addition, Spanish Prime Minister Pedro Sanchez proposed in early October to the European Commission to carry out "bulk purchases" of gas in order to increase the EU's bargaining power in the face of soaring energy prices. European Union urges Member States to lower energy taxes
European Union urges Member States to lower energy taxes
The European Commission presented on 13 October tool" in which the Twenty-Seven are invited to tap to alleviate the bills of the most vulnerable consumers.
In particular, Brussels encourages states to lower heavy energy taxes – including VAT – and to support households through vouchers or bill deferrals.
Energy Commissioner Kadri Simson also advanced the track of the "carbon (CO2) market". "This may seem like a burden for states just recovering from the pandemic, but they can tap into revenues from the carbon market, where energy suppliers buy rights to pollute", she explained.
According to the Commission, the sharp rise in the price of CO2 allowed Member States to rake in a total of EUR 26.3 billion in revenue over the first nine months of 2021, or almost an additional EUR 11 billion over one year.
However, these temporary measures must be "well targeted", "easily adjustable"as soon as the situation improves,"avoid interfering with market dynamics"and do not weaken support for renewables, warned the Commission.
Source link