News
Reunion in fear of Cyclone Batsirai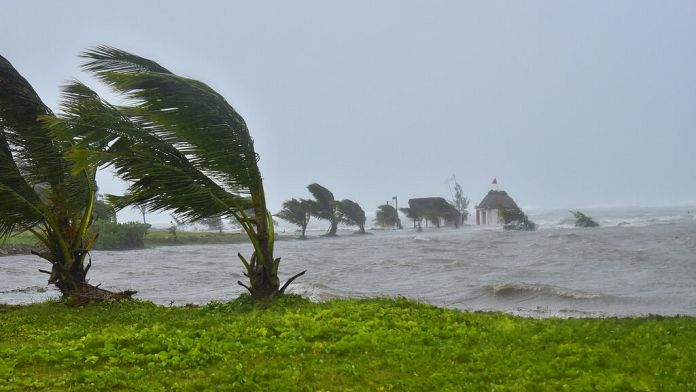 "The worst is not over," said the prefect of Reunion this Thursday, as cyclone Batsirai skirted, less than 200km from its coast, the French department of the Indian Ocean. Carrying torrential rains, the weather phenomenon has already left twelve injured.
The island was placed on hurricane red alert this Wednesday at 7:00 p.m. local time, requiring the 860,000 inhabitants to barricade themselves.
If the prefect does not count for the time "no victims due to non-respect"confinement instructions, the island does however count"twelve injured in relative emergency: ten people who were poisoned by carbon monoxide, an electrified firefighter during an intervention on a roof fire and one injured following a fall from a roof".
"We only count a limited number (25) of interventions directly linked to the cyclone", indicated the prefect who alerted on "the risk of carbon monoxide poisoning that can be generated when using generators in a closed environment".
"At 7 a.m., he was 205 km north of Reunion. It is moving at a speed of 6 km/h on a west-southwest trajectory", indicated during a press conference the prefect who estimated that he would arrive"closer to the island during the morning, (…) about 180 km from the coast".
"The heaviest precipitation is to come so be careful when you live near watercourses", warned the prefect.
Météo-France confirmed in the early morning to AFP that Batsirai's trajectory had been maintained and that it should pass as close as possible to 180 km from the coast of this French overseas department. As it slowed its course, it will happen later than initially expected (00:00 GMT), said the meteorologists without stating any new forecast other than "during the morning".
Water and electricity cuts
Preventive water cuts to preserve the facilities affected Thursday morning 30,000 people and disturbances on the electricity network affected all the municipalities of the territory.
Power cuts affected up to 61,000 homes, "thanks to the mobilization of EDF teams, 25,000 customers were able to be supplied via remote maneuvers", corn "36,000 customers currently remain without electricity", specified the prefect.
"Heavy rains will affect the entire department. They could be particularly strong near the volcano and the cirques" (Mafate, Salazie and Cilaos), according to Météo France.
The main airport (Roland-Garros) has been closed. The coastal road, a major axis of the island linking the administrative capital Saint-Denis to the port and the heavily inhabited western towns, has been closed due to the risk of strong swells. As well as the Cilaos road which winds through the mountains.
At the end of the week, Batsirai should touch the east coast of Madagascar and in particular the Mahanoro region, forecasts Météo-France, possibly at the stage of Intense Tropical Cyclone. The impact could be "major" for this region and heavy rains could concern the southern half of Madagascar.