News
Residents stuck in Ukraine build makeshift shelters against invasion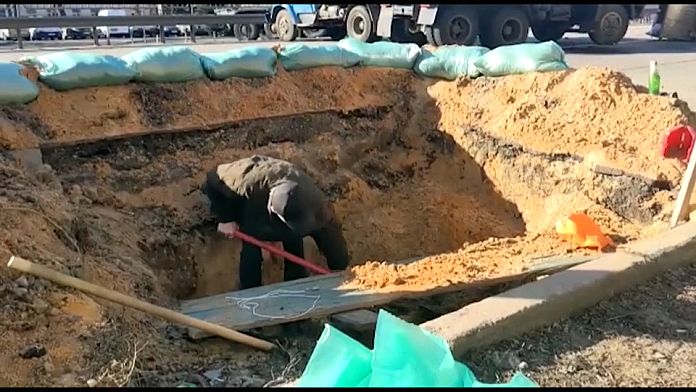 On the third day of the Russian offensive in Ukraine, the streets of the capital are empty, but already bear the traces of the ongoing war. In a city under threat of invasion, the people of Kiev are working harder to protect themselves. Some even started to build trenches.
In a message recorded this morning, Ukrainian President Volodymyr Zelensky once again called on his fellow citizens to take up arms to defend their country. In Kyiv, soldiers and firefighters move from place to place as needed.
Civilians who have not left the city have few options: some are preparing for battle, others seek refuge in makeshift shelters throughout the city such as underground stations dug underground, but also on the lower floors of buildings.
Shelter of relative safety as missile fire intensifies in the capital, Saturday morning a building was heavily hit, the number of victims is not known.
Heavy fighting is taking place in the capital and in particular on Victory Avenue, one of the main arteries, where the Ukrainian army says it destroyed a column of five Russian vehicles, including a tank.
According to the mayor of Kiev, Vitali Klitschko, the night was difficult in the capital where there are Russian sabotage units, but no regular units yet.
A high-rise residential building was hit by a missile strike, authorities said.
Ukrainian forces have also reported heavy fighting 30 km southwest of the capital where the Russians are trying to land paratroopers.
Russia for its part did not mention any offensive on Kiev, only reporting cruise missile attacks on military infrastructure, advances in the East, where the army supports the separatists of the Donetsk and Lugansk territories, and in the south where Russian forces entered from the Crimean peninsula, annexed in 2014.