News
Residential schools in Canada: wounds remain in Kamloops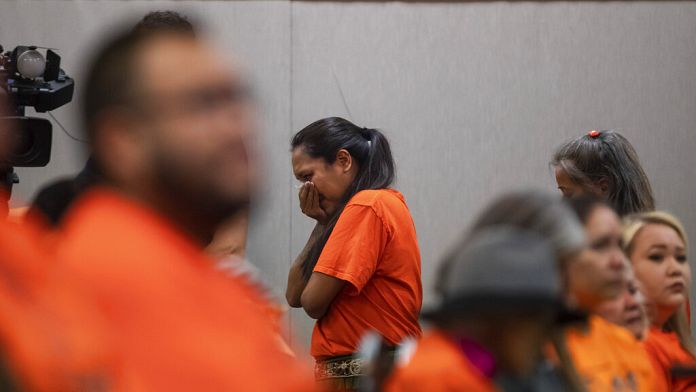 The city of Kamloops, in western Canada, has become one of the symbols of the residential school scandal that has rocked the country". Nearly six months later, the community is still nursing its wounds, continuing the search and fighting to identify the missing.
For the first time since it announced that it had found 215 children's remains buried on the site of a former Catholic boarding school, the community of Tk'emlups te Secwépemc will welcome Canadian Prime Minister Justin Trudeau on Monday.
Over the past few months, "old wounds have been reopened," its head, Rosanne Casimir, told AFP.
The location of these human remains has been a distressing confirmation for the many Indigenous communities, who have witnessed for years the thousands of children who have disappeared while in residential school.
More than 1,000 graves have since been found near other residential schools, rekindling a painful piece of Canadian history and its policy of forced assimilation of First Nations people.
"Being there, again, was very, very hard," Evelyn Camille, a survivor of the boarding school, told AFP, her throat clenched by sobs.
"There was a lot of abuse and hunger" inside the red brick building, denounces the woman who spent ten years of her life there around 1940. "They called us the hungry Indians," recalls this 82-year-old "elder", for whom the subject is still very sensitive.
"Unanswered questions"
Known for decades in Indigenous communities, this dark page in history was documented in a lengthy report by a commission of inquiry that concluded in 2015 that it was a "cultural genocide".
Rosanne Casimir recalls that there are "still many unanswered questions". "Why has the government done nothing before? We had told our truth and what we already knew: why is it breaking out into the open only now and why are people listening to us today?", denounces the chief.
Established in 1890 and run by the Catholic Church and then by the federal government, the former Kamloops boarding school was the largest in the country, accommodating up to 500 students before closing in 1978.
From the late nineteenth century to the 1990s, some 150,000 Indigenous children were forcibly enrolled in 139 residential schools across the country, where they were cut off from their families, language and culture. Thousands never returned.
To heal, Evelyn Camille helped create a school that emphasized the culture and language of her community, which these boarding schools specifically wanted to deny.
Teaching young children to present themselves, to be proud of their identity, was a way for this survivor to move forward. "I don't think I could have gotten away with it without talking about it. We need it to heal," she insists.
Many Indigenous communities still expect Pope Francis to come to Canada to issue a formal apology, which is seen as crucial to the reconciliation process.
"If he really listened to our survivors and worked out a meaningful response, it could make a difference," says Rosanne Casimir.
"Is it that difficult? They tortured us, beat us, many were abused… Why can't he apologize?" asks Evelyn Camille.
Identify remains
Beyond symbols, the community urges the Canadian government and the Catholic Church to share all information that can identify children, such as school attendance records.
"It's very important to bring peace to the different families," says Evelyn Camille. "We believe that when the children lost their lives, their journey was not over and their spirit remained with the remains," says this Tk'emlups te Secwépemc community member.
"They have been waiting there for a long time and now that they have been discovered, we must first find who they are, who they were" so that they can complete this journey, she continues.
The technology that confirmed the location of the graves does not give details about the age or time of burial. "It's not like an X-ray, it doesn't show bones, bodies," geo-radar specialist Sarah Beaulieu, who participated in archaeological research, told AFP.
The latter, carried out over an area of about 8,000 m2, led to preliminary results. It is likely that they reveal other graves since 65 hectares still need to be analyzed at the Kamloops Residential school.
Finding all the missing children is likely to take "a lot of time, not just a year or two," says Rosanne Casimir.
Source link