News
[Reportage] With the thousands of Ukrainians crossing the Danube to seek refuge in Romania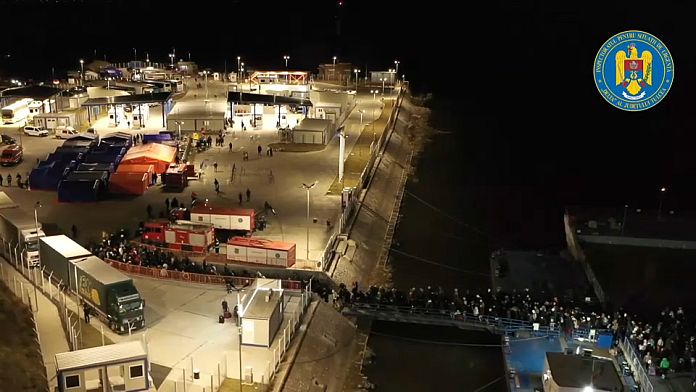 Thousands of Ukrainians take the ferry across the Danube to seek safety in Romania. Our special correspondent met them. Report.
A steady stream of Ukrainian refugees crossing the Danube, marking the border between Ukraine and Romania. Women, children, elderly people fleeing the war in their country to find shelter on the other side of the river.
We are at Isaacthe port of entry into Romania.
One of the ferry crew members explains that they have been working non-stop for 4 days. "We cross, we embark the passengers, then we come back. (…) At each rotation, we transport about 1000 people."
"It's complicated, adds the ferry pilot. We don't take a break. We just rotate. But we do it to help our neighbors."
Vitalli is one of the managers of the port ofOrlivka, on the Ukrainian bank of the Danube. He has hardly slept for several days, to allow the refugees to pass through.
"I am one of the people who are not allowed to leave Ukraine, he explains. Either way, I don't want to:he Ukraine is my country and I want to stay there."
And when asked if he is ready to fight, he replies: "yes, if necessary". And to add: "for the moment, the battle I am fighting is to help people who need it, to leave the country."
Some baggage and a lot of uncertainties
Refugees leaving Ukraine often have only a few pieces of luggage with them. They leave behind them a country at war and in the grip of desolation. And in front of them, a lot of uncertainties.
"I don't know where we're going to go, says an elderly refugee. We'll see. It seems that someone must drive us to the town of Brăila."
"So far, so good, testifies a young woman who is 8 months pregnant. __My parents told me that I had to go to Romania to find refuge there, in order to give birth in safer conditions."
The crew members of this ferry have not slept for several days, and they intend to do everything they can to allow the Ukrainian refugees to cross the border and find refuge on the Romanian side.