News
Report from the Polish border: Ukrainian refugees testify between pride and pain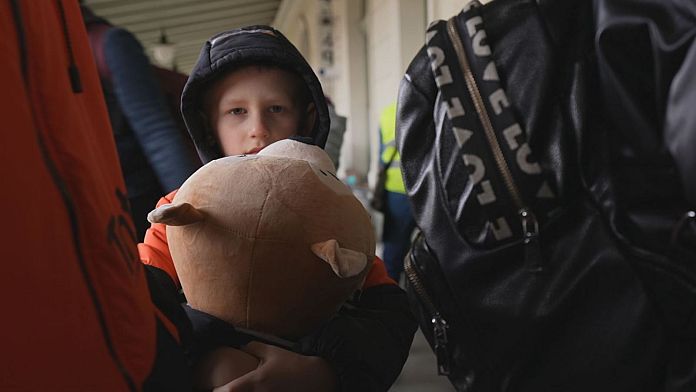 In the first weeks of Russia's invasion of Ukraine, our reporter Monica Pinna traveled to Przemyśl, Poland's main town near the border with Ukraine. She witnessed the massive influx of Ukrainian women and children fleeing war in their country as part of her report above. After leaving Poland, she looks back on the way she covered this unprecedented event, synonymous with overwhelming encounters for her.
In Przemyśl, in the parking lot of the buses transporting Ukrainians after crossing the border with Ukraine, as I was handing my microphone to the refugees, I noticed that Elizaveta was watching me. I approached her. She breathed deeply. Her mother, next to her, looked at her and shook her hand. Just before she spoke to me, I froze on the spot: this gesture uniting two generations of Ukrainian women upset me. One symbol at a time, of love, pain and strength.
"Putin killed our people"
Still flabbergasted by the fact that her life had changed in such a short time, Elizaveta started talking to me. "In Ukraine it's so difficult: Putin killed our people, he killed children, so many children," she shouted. She wasn't crying, but tears clouded her eyes.
As a journalist, I couldn't keep an emotional distance from what I was witnessing. Thierry's eyes, behind the camera, were also filled with tears and Karolina, our translator, couldn't help herself either.
A wave of sadness and pain
This same scene was repeated many times during our ten days of reporting in Poland on the border with Ukraine. Impossible for us to remain indifferent. This wave of sadness and pain coming from Ukraine has hit us all. A nagging question invaded my mind: how was all this possible?
Many times I thought I was intruding too much on the privacy of the refugees I was interviewing, but often I was surprised by their answers. These mothers, grandmothers and young women were aware that they had a role to play, even far from home, even as refugees.
"The world must know," threw me Lyuba on the car park. Overwhelmed and still in shock, she described to us how the world around her had come crashing down. "It's Putin, the aggressor, innocent people are dying, tanks are firing in all directions," she called out to us. "18-year-old girls are there with machine guns, it's horrible, the tanks are in the city, everywhere; people are wearing military uniforms," she described. "He must be stopped, otherwise it will be nuclear war. Tomorrow he will be in Europe, stop him!" she shouted.
Pride and Resilience
There, I also met Veronika, 20, who was in line, wrapped in a large blanket. She told me that Ukraine will win because "Russia fights with an army while Ukraine fights with people." This strong sense of belonging and resistance is something I found in all the refugees I spoke to.
There was also Lyudmillaa 67-year-old retired female doctor, who told me: "We will get out of this." She expressed herself in a forced smile that eventually turned into tears. I saw there all the resilience of a population fighting for justice, democracy and freedom, reminding us of values ​​that are also those of the European Union.