News
Report from Przemyśl in Poland, facing a continuous influx of Ukrainian refugees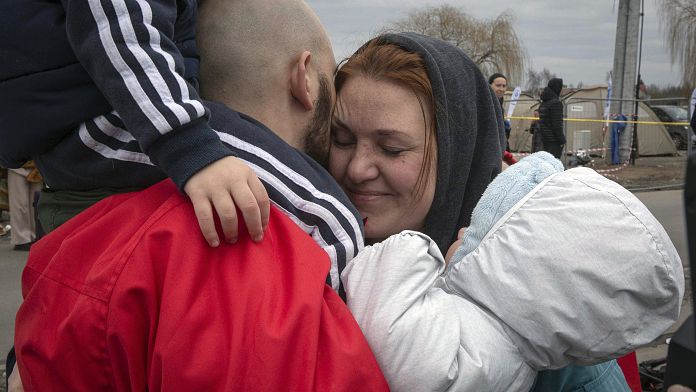 Ukrainian refugees continue to flow into Poland, where they are welcomed and cared for by associations and local authorities who are overwhelmed.
More than a million refugees in ten days
In ten days of war, more than a million refugees have arrived on Polish soil, a figure that continues to rise.
Wojciech Bakun, the mayor of the border town of Przemyśl, speaks of a permanent emergency situation:_"We have to take care of all the people at the border very quickly, because at night it is down to -2, – 3 degrees. We can't leave people in this freezing cold at the border. We are facing a difficult situation that is likely to get worse in the near future."
_
destitute refugees
Dozens of buses arrive day and night in Przemyśl. On board, exhausted refugees. They receive food and clothing here.
Tanya arrives from Kyiv. She hopes she can find a jacket for her 7-year-old son:_"We hardly took anything from Kiev. We had to hurry, there were bombs exploding. It was very scary. My son was very scared . We just packed a few things in the suitcase, we left and we ran, our hands almost empty.
_
In addition to food and shelter, vulnerable refugees need protection, especially women and children.
Agnieska Falana is a volunteer at the Przemyśl reception center "Everyone who leaves here is registered. We keep all the data, the information on the individuals who come to collect refugees: their apartment, their address, everything… so that we can keep track of these people, because we know that young girls are going missing, there are thieves trying to steal the refugees' belongings: money, jewellery, whatever the refugees may have taken from their homes before they left."
Monica Pinna is euronews' special envoy to Przemyśl: _"Never since the Second World War has an influx of refugees been so rapid. As the conflict in Ukraine escalates, the already overwhelmed Polish authorities fear that this is just the beginning of this crisis. They expect the arrival of three to four million additional refugees.
_