News
Report from Lviv, humanitarian hub in western Ukraine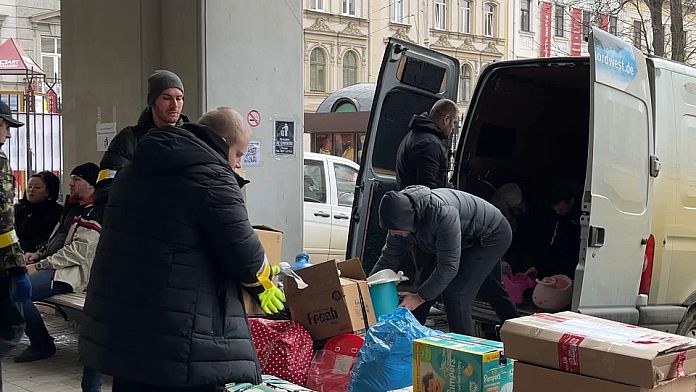 In western Ukraine, the National Art Gallery in Lviv is normally a renowned cultural center. The war turned him into a humanitarian hub. Day and night, foodstuffs and goods arrive from all over the country as well as from abroad to be stored in this immense space of 9,000 square meters.
Several tons of food, clothing, medicines, or even toys, are then sent daily to the cities most affected by the Russian air raids. Among the volunteers working here are many Ukrainians who have fled combat zones.
Yuriy Popovich is the center's coordinator: "We have a few hundred volunteers present at all times here and everyone helps. Many people have lost their jobs because of the war. A lot of businesses have stopped working, so people don't want to stay home. They just want to do something that can be useful".
This is the case of Yaroslav, he was a computer engineer before the start of the war. "Many children write us letters. We pass them in parcels for our troops. This child is certain that we will win. So we can't imagine for a moment not winning. we have to win", he declares.
"A Shower of Bombs"
But moral and humanitarian aid must be backed by urgent political decisions, say everyone we met at this centre. All are calling on Western leaders to impose a no-fly zone over Ukraine.
Solomiya Terebukh came to help at the center after fleeing Kyiv with her family: "We are like under a rain of bombs. What we really need now is to close the sky. Close airspace. Please help us because our children are terrible. We are afraid that every day we wake up. We don't know where this bomb will land."