[ad_1]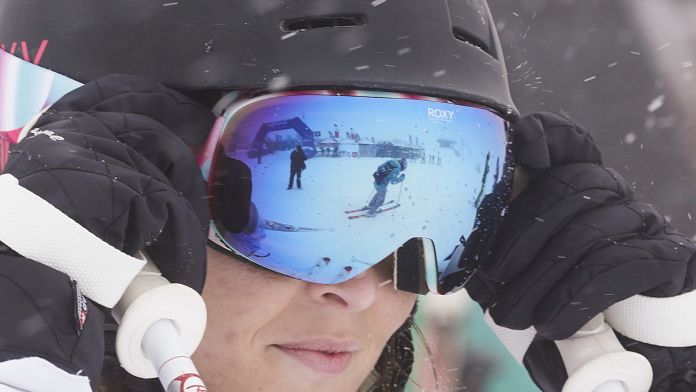 Italian skiers were able to return to the ski slopes this Saturday after a very complicated 2020-2021 season, marked by an almost complete closure. And as the industry hopes to recover from nearly two lost years, a spike in cases in the Alpine province bordering Austria underscores how precarious the situation remains.
As expected, snow fell overnight – just in time for opening day – covering the slopes of Plan de Corones in the town of San Vigilio di Marebbe, South Tyrol. Skiers have sometimes come from far away, such as Croatia or the Italian capital Rome, as well as neighboring valleys where the slopes have not yet opened. "I have chills down my spine, because we left the tracks on the infamous March 8, 2020, rushing to Rome because everything was locked"said Monica Meloni, 53, a skier from Rome."We made the last descent on this track, looking at each other and asking ourselves: "When can we come back?". It took almost two years ".
Mask and "green-pass"
To ensure the safety of skiers, the Dolomoti Superski network, which brings together 16 ski resorts over nearly 1,200 kilometers of slopes, has launched a skipass integrated into the "green-pass" aimed at guaranteeing access to the ski lifts. These are only open to people who have been vaccinated, healed or have a recent negative test.
"The fear of another lockdown is always present, especially in winter"said Zeno Kastlunger, vice president of Dolomiti Superski."But I think what's important is to use the weapons we have: get vaccinated, obey the rules, use the green pass to its full potential, and I think by doing that we could potentially managing the season without a lockdown, but we're all aware that it can happen, and if it does, it will be for a bigger purpose. "
Skiers are also required to wear masks on ski lifts – whether open chairlifts or closed cable cars – and to maintain a social distance of one meter in queues. For the descent, however, no need for masks.
This year, France and Switzerland impose the wearing of a mask and social distancing in the resorts, while Austria limits the practice of skiing to people who have been vaccinated or cured. The German region of Bavaria, for its part, requires a negative test for all skiers, even those who have been vaccinated.
[ad_2]

Source link